Chocolate Chip Shortbread Cookies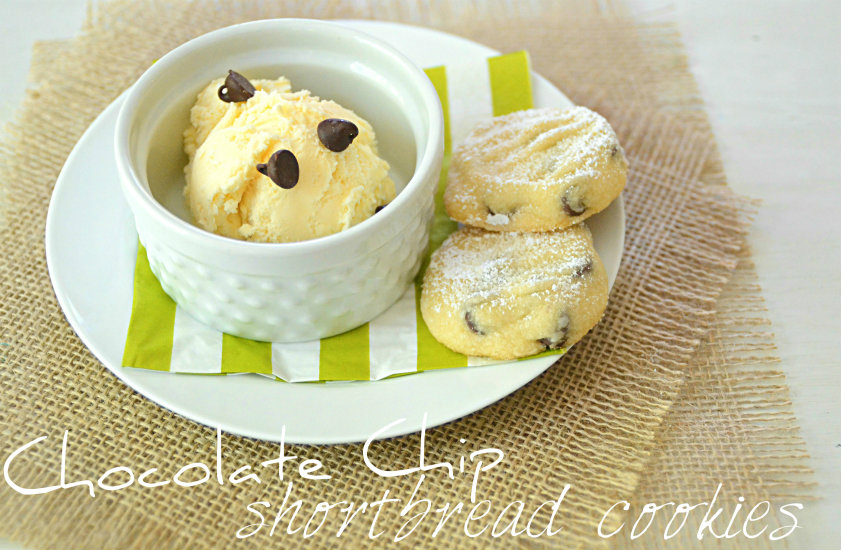 It was one of those baking myself happy kinda days back then. The day before had been a 14 hour hospital nightmare, and now my bathroom had a puddle growing across the floor. I need a chocolate fix! But no eggs! That eliminates brownies and cakes. (In those days substituting ingredients was sorta like cheating. Yeah, kinda crazy.) I have chocolate chips! And zip eggs needed for shortbread.
Within 30 minutes all was done … Chocolate Chip Shortbread Cookies. Just in time! The plumber arrived and I showed him the puddle. He reached down around the base of the toilet and said, "you've a leaking gasket … can I use the phone?" Sure (I kinda hesitated … his hands still dripping) … leading him to my kitchen phone. I passed him minutes later on his way back to the leaking gasket … He was eating my cookies right off the serving plate. Nope! The family didn't get a taste that day.
Since then I've made this recipe many times with great results. Always delicious and a perfect change.
And today I always offer cake and cookies to avoid a help yourself kinda situation like this one!
recipe
Preheat oven to 350 degrees F
Makes 2 dozen 2 inch cookies
Use a nonstick cookie sheet or cookie sheet covered with parchment paper
Bake 12-15 minutes until lightly brown around the edges
1 Cup room temperature butter-if using salted butter only add a pinch of salt to recipe
1 Cup powdered sugar (more for sprinkling)
1 Teaspoon vanilla
1/4 Teaspoon salt
2 Cups all purpose flour
1 Cup chocolate chips
Optional-1/4 Cup finely chopped nuts
Ingredients look familiar? Yep this is a version of Mexican Wedding Cakes!
Put all ingredients except chips and nuts into a large mixing bowl. Mix thoroughly until the dough comes together. This only takes a minute or so. Add chips, and nuts if using.
Roll the dough into one inch balls and place onto cookie sheet.
Use a fork to press the cookie flatter as you would for peanut butter cookies
Bake.
Remove from oven and cool slightly.
Then sprinkle powdered sugar over the top.
How simple is that! And a nice change up to Chocolate Chip Cookies.