Coffee Rich Devil's Food Cake
Made With Your Favorite Coffee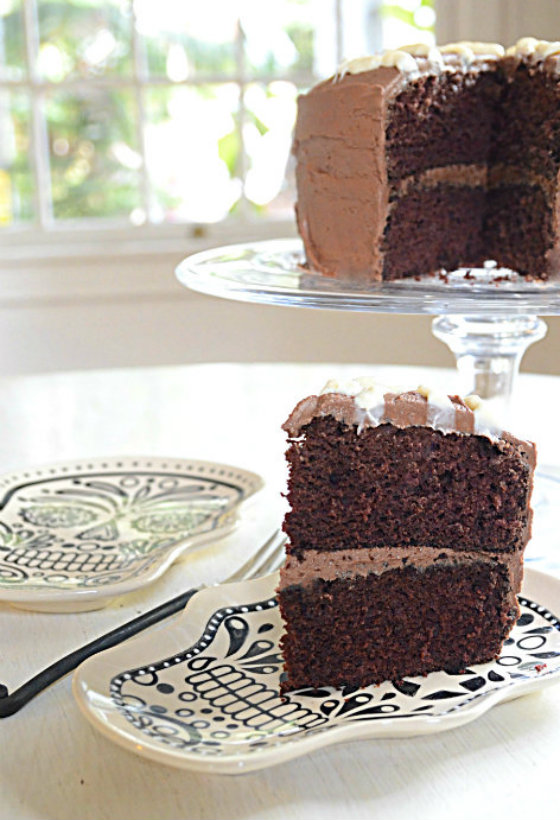 It's probably no surprise this is the busiest time of year for candy, and over 70% purchased will be chocolate. And when you add America's favorite drink to the mix how can you go wrong. Chocolate and coffee are not only loved they are the classic combination! So why not add brewed coffee in place of water called for in this classic Devil's Food Cake recipe. Sounds good to me! And add coffee to the buttercream frosting too. WOW! Coffee Rich Devil's Food Cake, a delicious dessert. You just can't go wrong! Use your favorite brewed coffee for that hint of favorite flavor. Have fun with it!
Try this Devil's Food Recipe too.
Recipe
Preheat oven to 350 degrees F.
Makes 9 inch double layer cake.
2 1/2 Cups cake flour-whisk then measure
1/2 Cup unsweetened cocoa
1 1/2 Teaspoon baking soda
1 Teaspoon salt
1/2 Cup shortening
1 3/4 Cup sugar
1 Teaspoon vanilla
3 Eggs, separated
1 1/3 Cup brewed coffee-refrigerated until cold
Whisk together the first four ingredients and then set aside.
Beat the egg whites to a soft peak and then slowly add while beating 3/4 cup of the sugar. Beat until stiff peak and sugar is pretty well dissolved. Set aside.
Now beat the shortening with the remaining 1 cup sugar and add the vanilla and continue beating until creamy.
Add one egg yolk at a time to the shortening/sugar mixture and beat well.
Add, alternating a little at a time, the dry ingredients with the coffee to the shortening/sugar/egg yolk mixture. Incorporate ingredients well but avoid over-beating.
Fold in the egg whites into the mixture.
Pour ingredients evenly into two greased and floured cake pans. I like to use parchment for the bottom but grease under and on top the parchment then flour. Cake comes right out.
Bake 30 minutes or until done. A toothpick should be clean when cake is pierced in the center. Careful, over baking makes for a dry cake.
Frosting
1 Box powdered sugar
4 Tablespoons unsweetened cocoa
1/2 Cup room temperature butter-salted or add 1/4 teaspoon salt to mixture
1 Teaspoon very best vanilla
4-6 Tablespoons of warm coffee-add slowly to avoid making the frosting too thin
Place all the ingredients but the coffee in a large bowl.
Add 2 tablespoons of coffee and beat the ingredients with a mixer, on low at first. If the mixture is too dry add a little more coffee. Go slow with the coffee because all of a sudden the ingredients come together in a creamy thick manner.
Frost the cake when it is completely cool.
Enjoy!!