Country Beans and Country Bacon Cornbread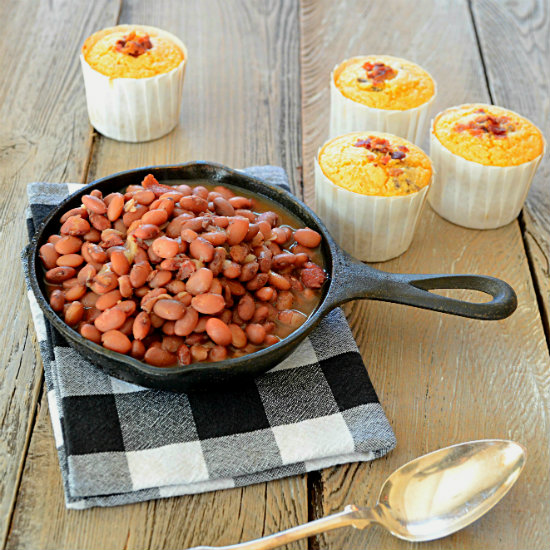 My children never understood just how lean those years were. A single mom making ends meet … And the most economical meal I made (and actually loved) was this one.
These recipes have few ingredients and are simple with little preparation time. I still love this meal not only because of the memories it evokes … It just tastes good!
When I say country I'm speaking about the hills of Arkansas where Granny and Grampa had a farm with just the right amount of livestock to keep the plates full. Granny wasn't particularly a good cook but she could can and pickle like no one else.
These recipes were hers with this exception … Her cornbread had only five ingredients; cornmeal, buttermilk, eggs, baking soda and salt. The cornbread I taste in restaurants today is more of a cake texture and very sweet. With this in mind I put together a recipe I felt would give the texture of my granny's without being too gritty and added just a bit of sugar. Bacon was a big thing in those hills … So, there is bacon in all of this. Yikes! But don't fear … I've precooked the bacon and only 2 teaspoons of bacon grease are used in the beans.
Recipe
Country Beans
1 pound pinto beans (I used pink because the texture is a bit firmer … The original recipe was pinto.)
3 thin slices of bacon-cooked crisp
1/2 Large yellow onion-chopped (or use one whole medium-chopped)
1 Small clove garlic-minced (not always used)
Salt to taste
Rinse the beans and soak in clean fresh water overnight. This shortens the cooking time and also keeps the beans from breaking open as easily in cooking.
Cook the bacon in your pot or dutch oven you plan to use for cooking the beans. Cook crisp and remove. Set aside. Drain all the fat from your pot except about 2 teaspoons. Leave the brown stuck on drippings in the pot and add the onion. Cook onion over medium low until slightly brown and tender. Add the garlic and continue cooking about a minute. Add the drained soaked beans and fresh water to cover by not quite an inch. If you have not soaked the beans you will need to add lots more water … about 3 inches of water over beans. Break up the bacon and add to the beans. Stir all.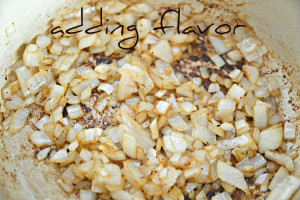 If you have soaked the beans they will take about 2 hours to cook. Bring to boil and then simmer on low with lid. Cook until they are tender. If you didn't soak the cooking could be twice as long. Be sure and check for need to add more water during cooking especially if you like soupy beans.
Add salt toward the end of cooking. Be sure to taste before adding too much salt. The bacon will have added salt. (Suggest starting with 1/2-3/4 teaspoon salt.) If you cook the bacon for both the cornbread and beans in the same pot and use all the adhered drippings when adding the beans be extra careful about how much salt you use.
Country Cornbread
Preheat the oven to 400 degrees F
Makes 6 small muffins or an eight inch round cake pan of cornbread, better yet a small cast iron skillet
3/4 Cup all purpose flour
3/4 Cup polenta (You can use cornmeal but it will have less texture. Flour takes away texture as well … The polenta will correct this some.)
3 Teaspoons baking powder
3 Teaspoons sugar (This will not make it noticeably sweeter. Add another 3 t if you like sweet.)
1/2 Teaspoon salt
1 Egg
1 Cup milk
1/4 Cup butter-melted or use cooking oil
3 Slices thin bacon strips-cooked crisp and drained, then crumbled-save out a few crumbles for topping
Pour all ingredients into a large bowl with the exception of a few bacon crumbles. Mix until all is just moistened. Pour into a buttered pan with a little sprinkle of polenta on the bottom or use a muffin tin and do the same. Sprinkle a little bit of the crumbles over the top.
Bake for about 15-20 minutes until golden especially around the edges.