Delicious Cauliflower Soup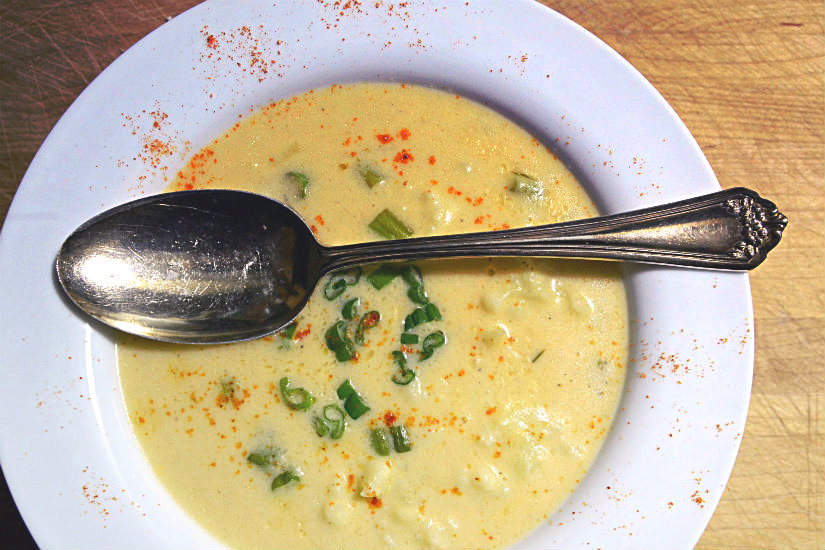 Weather influences what we eat … I don't know about you. I'm also influenced by what I have in the refrigerator … Cheeses and onions leftover from dips, and cauliflower from my Winter Salad. Perfect for today's easy rich soup, Creamy Cauliflower Soup.
Recipe
2-3 Servings
2 Tablespoons butter
1 Tablespoons flour
1/2 Cup milk
14.5 Ounce can chicken broth
3 Green onions-sliced across-separate the white portion from the green ends
2 Cups cauliflower florets-break up small
2 Ounces of cream cheese-cut into chunks and bring to room temperature
1 Cup shredded cheddar cheese
1/4 Teaspoon black pepper
Sprinkle of ground cayenne pepper
In a skillet over medium heat heat 1T butter (use olive oil if you wish) with the white portion of the green sliced onions. Add the florets and sauté with the onions for a few minutes. Remove from skillet and set aside.
Add the remaining butter to the same skillet. As the butter bubbles slightly add the flour and stir until this too bubbles. Slowly add the milk and incorporate into the flour/butter mix. Turn heat down to avoid burning. Slowly add the broth stirring as you pour. Bring to just under a simmer. Add the cauliflower and sautéed onions, cheeses and pepper. Maintain the low heat for about 15 minutes until cauliflower is tender. It will still be al dente. Stir in the remainder of onion, the sliced green tops.
Sprinkle with cayenne.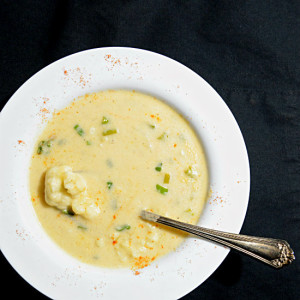 Enjoy!