Simple Custard Bread Pudding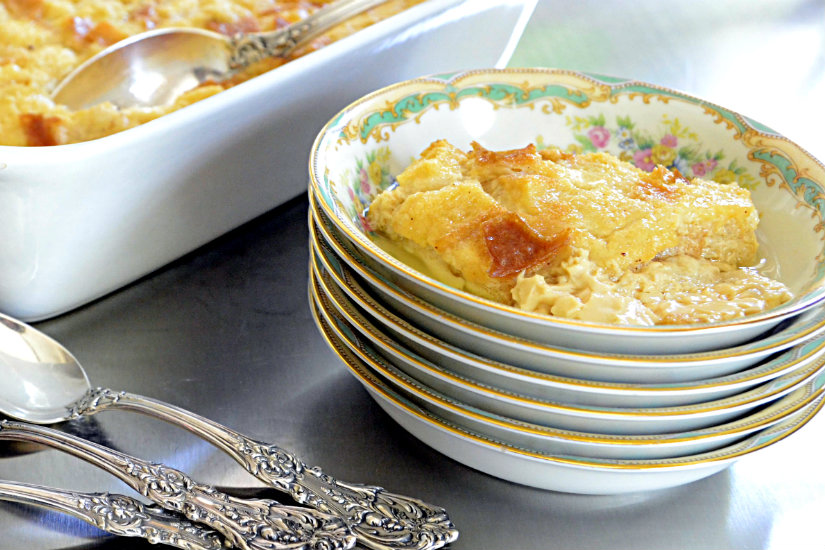 When I first came across this recipe I knew it was Portuguese in origin. Or at least from my grandmother's recipe collection. Now that I've made this wonderful pudding I'm clueless who to thank. Here is an old fashioned custard bread pudding that isn't only simple but requires no sauce or additional adornment. Serve this as a dessert or as part of your buffet brunch. It works as a side or lite main dish.
Recipe
Preheat oven to 350 degrees F
2 Cups bread crumbs-bread choice is up to you … I used plain white bread, Rainbow in fact, and cut small cubes … about four large slices of bread
2 Cups water
2 Cups evaporated milk
2 Tablespoons butter
2 Eggs
1/4 Cup sugar
1 Teaspoon best vanilla
1/4 Teaspoon ground nutmeg
1 Teaspoon salt
Mix the milk and water in a medium sauce pan and heat over medium heat to just under a simmer until the top forms a film. Remove the film. Add the butter and set aside.
In a large mixing bowl beat the eggs to a nice foam. Add the sugar and continue beating until the sugar is pretty well dissolved. Beat in the salt, nutmeg and vanilla.
While beating the egg mixture after addition of the salt, nutmeg and vanilla, slowly add the heated milk. Beat well for about one minute. Stir in the bread crumbs.
Pour the mixture into a baking glass bowl, quart and 1/2 capacity. Or other baking dish. Do not prep the baking dish with butter.
Bake one hour. Remove from oven and let cool to near room temperature before serving.