Devil's Food Cake
A Cake To Soothe A Broken Heart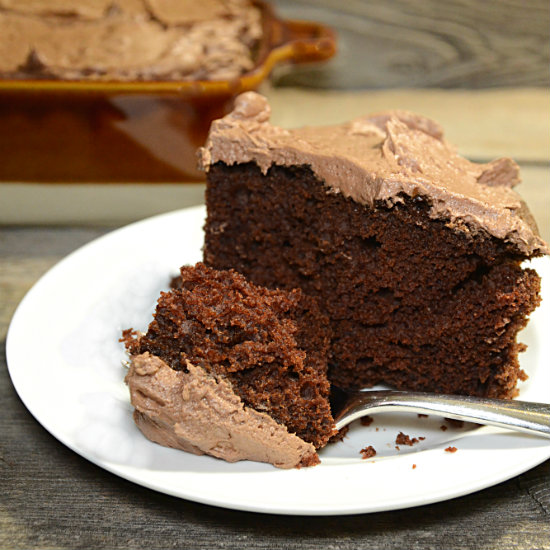 You might be thinking your broken heart deserves something much more decadent … maybe a chocolate cheesecake. I've been there! But at a quarter after one and I need you now … This is much more practical. It's easy & quick, makes a 9 inch square cake (or on other days two 8 inch layers), moist and best of all, chocolatey.
We've all had heartbreak or so I've been told. And dealing can be unpleasant and miserable especially if it's twice with the same guy. Just ask me! And I know about the appetite disappearing, you'll find as you age this step goes missing, but somehow keeping busy helps. Whether you're brokenhearted OR you decide to make this for your sweetheart for Valentine's it won't disappoint.
Recipe
Preheat oven to 350 degrees F
Bake 8 inch layers about 30 minutes or 9 inch square about 40-45 minutes or until a toothpick in the center comes out clean
1 3/4 Cup cake flour
3/4 Teaspoon baking soda
3/4 Teaspoon salt
2 Ounces unsweetened chocolate
1/2 Cup hot strong coffee
1/2 Cup butter-room temperature or microwave seconds
1 1/2 Cup sugar
2 Eggs-room temperature-if possible
1/2 Cup Sour cream (or sour milk-2t vinegar or lemon juice in 1/2 cup less 2t milk, let set for 10 minutes)
Measure the first three ingredients in a small bowl and whisk to mix. Set aside.
Melt the chocolate in the coffee over several minutes. Stir occasionally. Set aside to cool.
Cream the butter then add the sugar and beat until light and fluffy.
Add one egg at a time to the butter mixture and beat well after each.
Alternately add the flour, sour cream and cooled chocolate/coffee to the butter/sugar/egg mixture. Mix until smooth but avoid over beating.
Prepare the cake pans. Butter lightly and use unsweetened cocoa to dust pans-all purpose flour in a pinch.
Bake. Cool and Frost
Frosting:
Double this recipe for layered cake.
2 Tablespoons butter-room temperature
1 Tablespoon mayonnaise
1/2 Teaspoon vanilla
1 Cup powdered sugar
2 Tablespoons unsweetened cocoa (used here or increase to 4T for more intense chocolate frosting)
1-2 Tablespoons cream (or milk in a pinch)
Pinch of salt
Place all ingredients in a medium sized bowl and beat until light and creamy.