Easy Bagels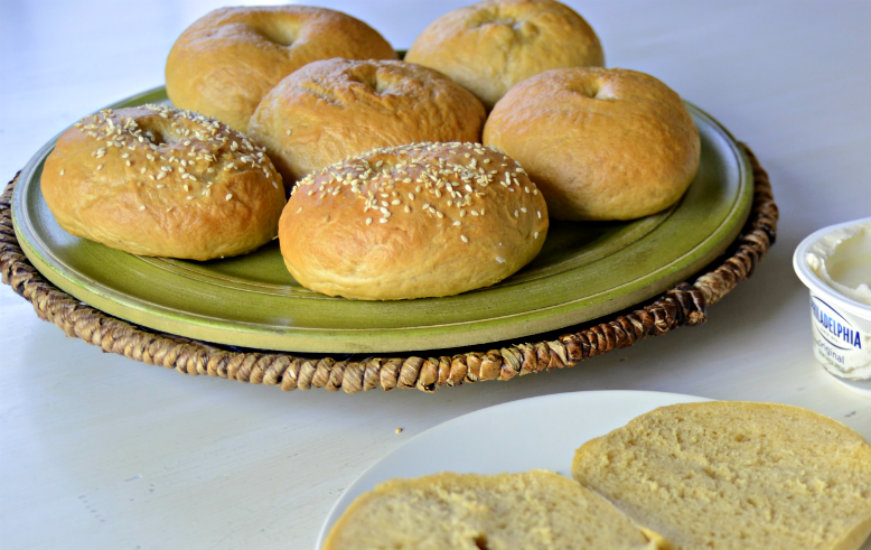 35 years ago fresh bagels couldn't be found in our city, Visalia. In fact, you were lucky if you found frostbitten bagels in the freezer section of your favorite grocer. Rather than driving the long distance to the big city to scout out bakeries for this hard to find treat, I made them!
I was never much at bread making then and was a bit fearful … believing bagels to be more complex. My husband was so impressed … So let's keep the secret. Bagels are easy!
Bagels are very forgiving. This is a one bowl mix. 2-3 hours start to finish with only about 40 minutes total prep time. Top the water cooked bagels with sesame seeds and poppy seeds before popping them into the oven for the final baking. No one thought beyond plain, egg or onion bagels … not so long ago.
Recipe
Preheat oven to 425 degrees F when bagels have risen the second time
4 Cups bread flour and a bit more if needed
1 Packet of instant rise yeast
1 and 1/2 Teaspoons salt
1 and 1/2 Cups lukewarm water
1 Tablespoon molasses-dissolve in the lukewarm water
Water Bath
5-6 Quarts water with one tablespoon sugar added
In a large mixing bowl add 3 and 3/4 cup of the flour, the yeast, salt, and the molasses/water mix. Mix
On the kneading board have the additional 1/4 cup of the flour. Begin kneading and incorporating the additional flour. The dough is stiff not sticky. If you feel the dough needs an additional bit of flour … tablespoon or two … add as you continue kneading. Knead for 15 minutes. And again, don't be afraid to use your strength.
After the kneading form a ball and place into a lightly greased bowl and cover. Place bowl in a draft free warm, 75-85 degree F, environment. This dough will double in one hour to one and one-half hours.
Punch down and form into a small log. Cut the dough into 8 equal pieces.
Form each piece into a ball. Poke your index finger through the center and twirl the dough around your finger until the bagel is formed. Place on parchment paper or a lightly greased cookie sheet. Cover and give 30 minutes to double.
25 minutes into second doubling, bring the water to a low boil. Add the tablespoon of sugar. Preheat the oven.
After the bagels have doubled put 2-3 bagels into the low boiling water. Cook about 30 seconds per side. Then removed to greased cookie sheet or parchment covered cookie sheet.
Place the water cooked bagels into the preheated oven for 15 minutes or until lightly browned.
Enjoy! Homemade bagels are the best.