Easy Delicious Sticky Buns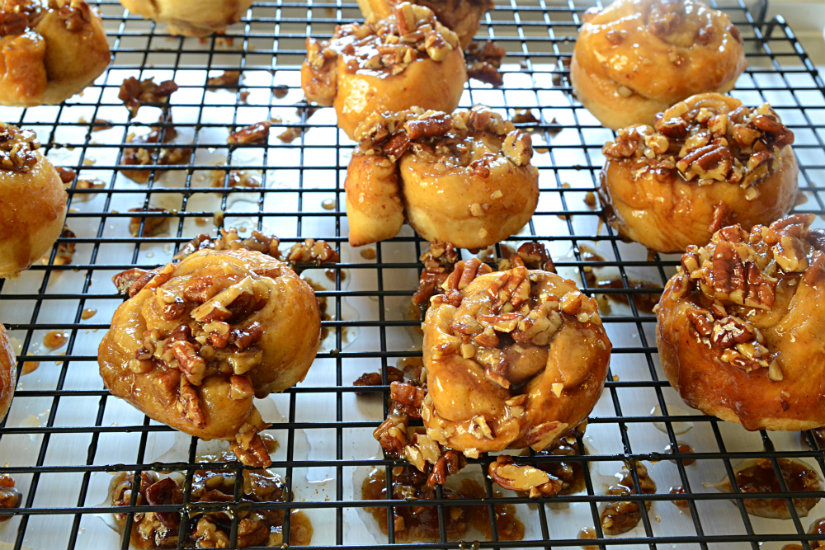 This is what happens when you put too much topping. Catch the excess topping on a cookie sheet or parchment paper … The kids or the kid in you will love it!
These sticky buns are so simple to make. You're just going to love these Easy Sticky Buns.
Recipe
Bake at 350 degrees F for about 15-20 minutes or until the buns are lightly brown.
Makes 12 medium sticky buns.
1 Pound loaf of frozen bread dough
Sprinkle of flour for rolling surface
1 Cube of butter, 8 tablespoons
1/3 Cup white sugar
1 Teaspoon cinnamon or to taste
4 Tablespoons of packed brown sugar
9 Teaspoons of light corn syrup
1/2 Cup chopped pecans
Defrost the frozen dough per package directions. I use the quick microwave method. On defrost setting microwave the dough, placed on a microwave safe dish that has been sprayed with cooking spray. Microwave one minute on defrost. Turn over the dough and microwave again on defrost. Repeat steps again if necessary. Let dough rest for 5-10 minutes.
While the dough is resting prepare the muffin tin.
In each of the 12 muffin cups (no paper liners used) add 1 1/2 teaspoons butter. Place tin in the oven at 350 degrees F (preheated) for about one minute or less until melted. (Use a muffin tin that will allow a little overflow of melted butter during baking. One with a lip … to save oven from spills.)
Now add 3/4 teaspoon of corn syrup to each cup, follow with 1 teaspoon packed brown sugar and 1/2 tablespoon of nuts. Stir each cup. Set aside and let tin cool to room temperature.
Roll the dough out on a flour treated surface to about 12 inches by 8 inches. Spread dough surface with 2 tablespoons melted butter, follow with a sprinkle of the white sugar and sprinkle of cinnamon. Roll the longest edge toward the longest edge to form a 12 inch roll in length. Slice along this jellyroll-like length every inch. Place cut side down into each muffin cup on top the topping mixture. Cover and let rise, double the size. This may take 40 minutes to over an hour depending on the warmth in your kitchen.
Bake until the rolls are lightly brown. Remove from oven and wait about 1 minute or so … wait too long and the contents will stick. Then turn the muffin tin upside down onto a rack with something to catch the excess underneath the rack.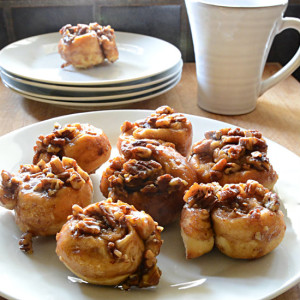 Enjoy!