Egg and Potatoes Meal
Breakfast, Brunch or Dinner & Lunch Too!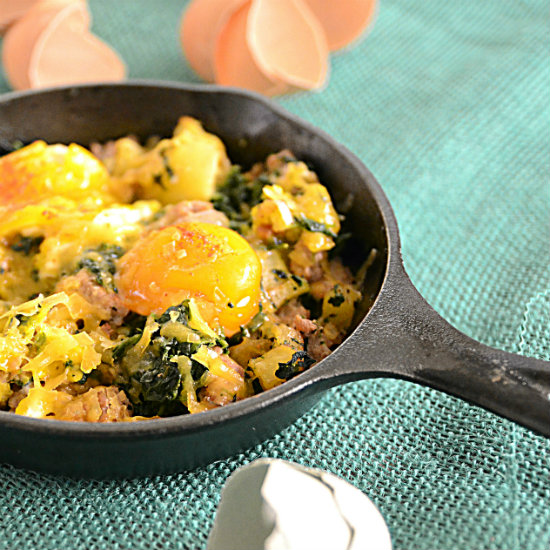 This happens when you have potatoes and eggs about to go south. BUT that doesn't mean this isn't a surprisingly delicious alternative to the usual dinner. I appreciate my hens working overtime! And my friend does too with this really easy dinner or anytime recipe. My single serving cast iron skillets are perfect for this dish. Fun!
Recipe
Preheat oven to 400 degrees F
2-3 servings
1-2 Tablespoons cooking oil
1/4 Cup diced onion-yellow or green
2 Large white potatoes-peeled and cubed
1/2 Pound ground sausage or Italian sausage or breakfast sausage
3/4 Cup frozen spinach (defrosted and squeezed to remove excess water)
2-6 eggs, depending on number of guests (2 per person)
1/2 Cup grated cheddar cheese (mild or sharp)
1/2 Teaspoon salt or salt to taste
1/4 Teaspoon pepper or pepper to taste
Sprinkle of cayenne (optional)
In a medium skillet add the oil and heat over medium-low.
Add onion and sauté until just slightly tender about 2-3 minutes.
Add the potatoes and cook over medium heat until golden brown and slightly tender.
Secret to browning potatoes this way … turn the potatoes infrequently.
Remove the onion and potatoes and set aside.
Add the sausage and cook to render off the fat. Drain.
Add back the onion and potatoes. Add spinach. Cook until the sausage is almost done.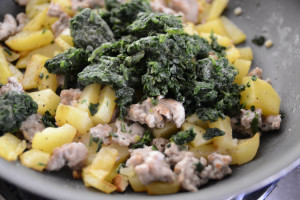 Add the salt and pepper.
Separate into 3 single serving cast iron greased skillets or a medium cast iron greased skillet or other baking dish.
Crack each egg into a spouted cup first then pour over the top of the potatoes and sausage.
Bake in preheated oven until eggs reach desired doneness … around 10-12 minutes.
Sprinkle with cheese. Sprinkle yolk with cayenne and serve hot.