A Delicious Indulgence
Pan Seared Filet Mignon with Blue Cheese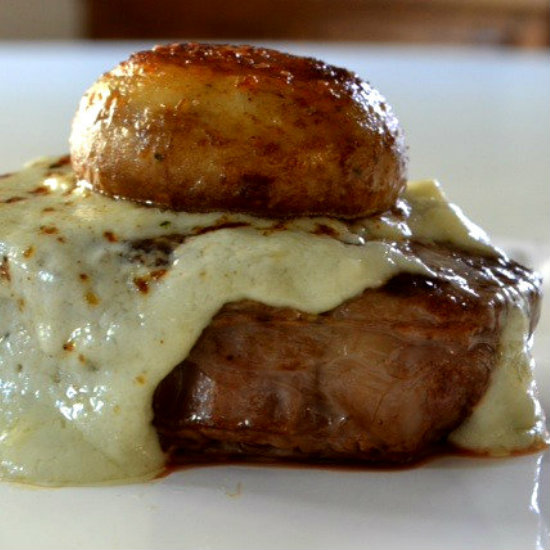 Pan Seared Filet Mignon is so easy and wonderfully delicious. Add this simple Blue Cheese Butter Topping for added deliciousness. Jerry, a long lost friend of mine, introduced me to this amazing steak topper … and pineapple smothered Spam … maybe another time! This is always an impressive meal and so simple. You must learn the pan sear trick.
Here are a few hints I was taught along the way that may be useful:
-Use a seasoned cast iron skillet or a heavy bottom skillet.
-The skillet must be hot.
-Use the fat you have trimmed off the steak to grease the bottom of the skillet. Use a fork to run the fat around the bottom of the heated pan and then remove it.
-I often use a skillet so well seasoned no grease or oil is needed to avoid sticking. If you try this be aware the meat will stick until it is seared. Wait a minute or two, then turn it over.
-You may need to turn the heat down slightly after you add the steak to avoid too much browning. Adjusting the heat as you go may be necessary.
-Turning the steak more than once or twice will not dry out the steak.
-I was taught to salt the heated skillet rather than oil to prevent sticking. This method may no longer be in vogue.
Recipe
1 1/2 inch thick filets-generous single serving is one that fits easily in the palm of your hand.
Heat your skillet over high heat, not the very highest however. Make sure the skillet is well seasoned or slightly greased. Add the filet or filets and leave to sear for about one minute. Check to be sure they are not getting too dark brown. Flip with thongs (do not pierce the meat during cooking or resting period) and sear the second side. If the pan seems excessively hot turn down slightly.
For rare: 5 minutes per side
For medium rare: 6 minutes per side
Or cook to desired doneness. Keep in mind the meat continues to cook following removal from heat. Wait 5 minutes before cutting into meat to avoid losing juices.
Blue Cheese Topper:
For mushroom: Sauté one large mushroom per filet in butter until lightly browned. Set aside.
For sauce: Melt your favorite blue cheese in a small heavy skillet. Add just enough butter (tablespoon or two) to make the cheese more of a sauce consistency. Or you might add half butter and half cheese if you prefer a less cheesy flavor. Do not allow this to boil. Spoon desired amount over steaks just before serving and top with mushroom. Thank you Jerry!
Try this with Stag's Leap Zinfandel. Thank you for the suggestion Ed!