Garden Variety Vegetable Soup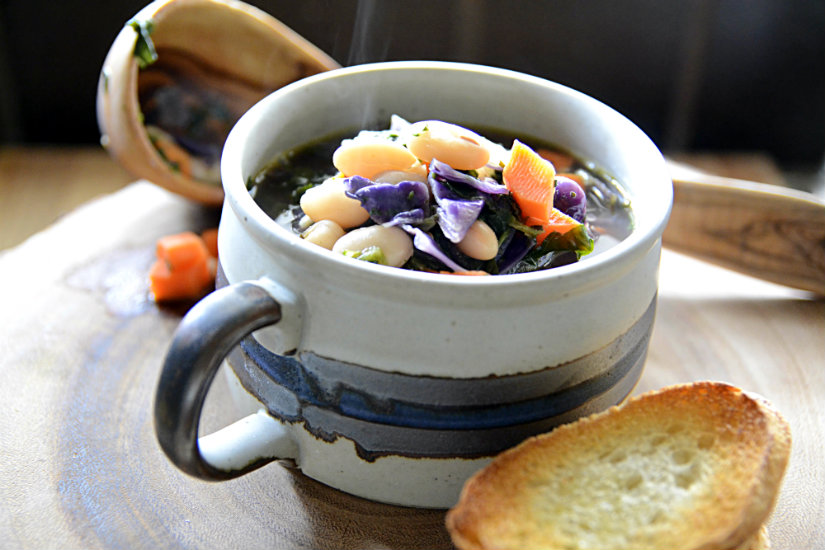 That was some Super Bowl, wasn't it! As the game progressed to a nail biting crescendo second and third helpings from our fabulous Super Bowl spread were inevitable. And we're not talking vegetables & yogurt. After leftovers yesterday and still some cheesy dips and a few meaty taste treats left we're craving something much lighter. I've grabbed the unused portion of cabbage head, posts: Winter Salad with Dill Dressing and Sweet & Sour Red Cabbage, and always have onions, carrots and garlic … And put together a very light but satisfying soup for tonight's dinner.
The basics of this soup are red or green cabbage, carrots, onions, garlic, olive oil and a little spice. Then add any selection of veggies or legumes. Light deliciously satisfying Vegan Vegetable Soup in 30 minutes.
Recipe
Serves 3-4
2 Tablespoons olive oil
1/2 Cup chopped yellow onion
1 Large minced garlic clove
1 1/2 Cups chopped into cubes cabbage, red or green
1 Cup diced carrots
3 Cups vegetable broth
1 Tablespoon tomato paste
1/2 teaspoon dried basil
Add any of the following, up to 2-3 choices, 1/2 cup frozen spinach, 1/2 cup cooked white or red kidney beans, 1/2 cup diced zucchini, 1/2 cup peeled and chopped Roma tomatoes, 1/2 Cup green beans
Salt and Pepper to taste
Italian parsley-garnish optional
Sauté onion in the heated olive oil, medium/low heat, until tender. Add the garlic, then the cabbage and carrots turning the heat to medium. Sauté until the last added vegetables are just beginning to become tender.
Add broth to the sautéed. Bring to a simmer. Add the tomato paste, and basil. Add the additional vegetables you've chosen and simmer until carrots and vegetables are fork tender. Save adding the spinach until the very end to maintain bright color. If adding beans, rinse thoroughly first, then add.
Recommend zucchini and green beans, if using, be sautéed along with other vegetables. Gives a heartier taste to the soup.
For vegetarians who must have cheese, sprinkle soup with grated Parmesan. Or do it the vegan way and add vegan Parmesan. For meat eaters who feel veggies alone don't get it, use chicken broth and add cooked Italian Turkey sausage cut into 1 inch lengths.
Taste for need of salt or pepper. Add as needed.
Serve with olive oil treated toast.
Perfect!