Gazpacho Recipe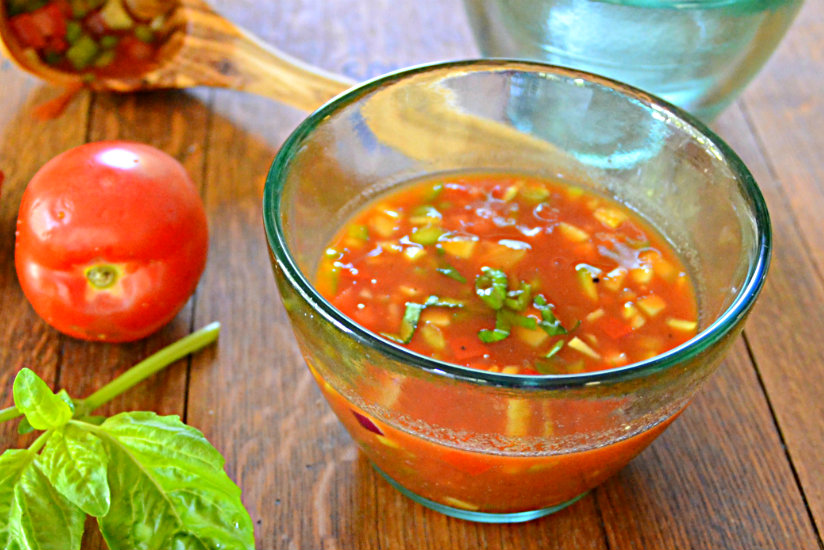 A family favorite for all these years! Nope, we haven't changed the recipe either. OK, maybe a little with the drizzle of olive oil and basil garnish, no one was into olive oil in those days. I most likely wouldn't have tried a raw tomato if this hadn't been my husband's favorite soup. Now it's my fav cold soup.
The secret in this recipe is to chop the ingredients very small and to remove the seeds from the tomatoes and cucumbers. Chill this in the freezer for a very short time to get it really cold or serve it on ice. What a really refreshing meal on a hot summer day!
Recipe
Serves 6-8
3 Cups tomato juice
1 Cup vegetable broth
1/4 Cup red onion-diced small or minced
2 Cloves garlic-one smashed and the other minced
1 1/2 Cup green bell pepper-diced with seeds removed
1 1/2 Cup cucumber-diced with seeds removed
1 1/2 Cup Roma tomatoes-diced with seeds and pulp removed
1/2 Teaspoon hot sauce
1/2-1 Teaspoon salt
1/4-1/2 Teaspoon coarsely ground pepper
1/4 Cup fresh lemon juice
Olive oil to drizzle
Fresh basil for garnish
Measure the tomato juice, lemon juice, salt and pepper, hot sauce and broth into a glass container and add the garlic. Stir. Refrigerate for at least an hour.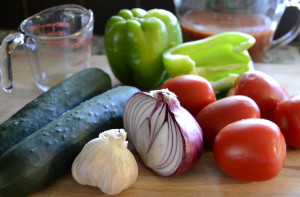 Prepare the vegetables.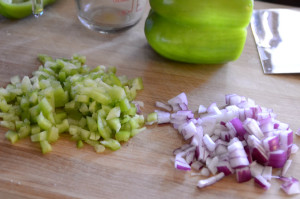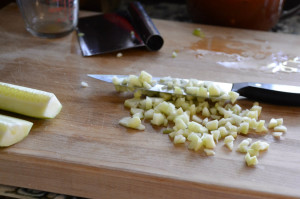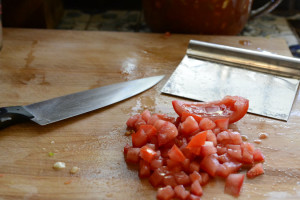 Refrigerate the diced vegetables until cold. Here is an organic website you can visit: www.foodsalive.com
Remove the juice from the refrigerator and add the refrigerated diced vegetables. Taste for additional salt and pepper need. Immediately serve in chilled glass bowls. Provide olive oil and basil as desired.
Enjoy!