Greens and White Bean Soup
With Croutons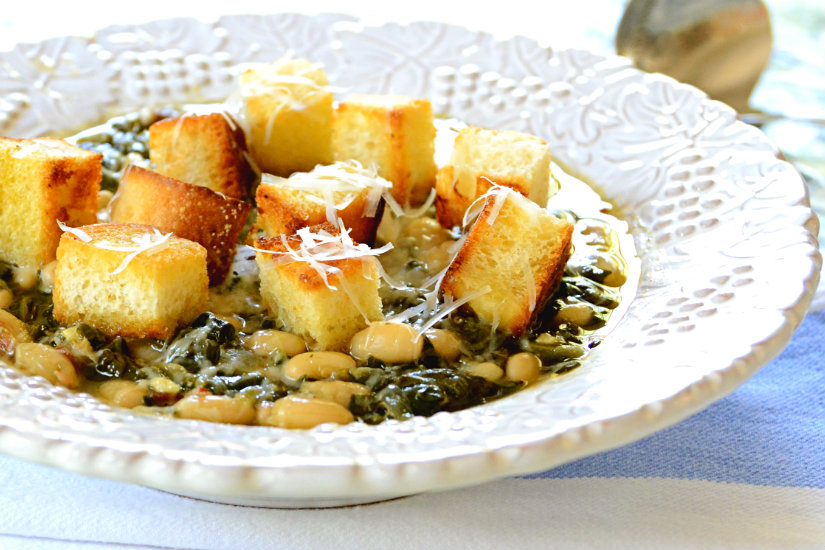 Any time is a great time for soup! Hot or Cold weather makes no difference. I reach for soup just about anytime. Even more when I'm under the weather … tired, sad or have overdone with rich foods for days. It just perks me up, mood and all! This is one of my go to soups because I have the ingredients at hand & I love greens … And it's a bit Italian and Portuguese, two of my favorite cuisines.
About the greens, I love escarole (a variety of endive) but kale and spinach are great substitutes and are readily available. I prefer using fresh greens in this soup but frozen will do in a pinch. Let's get on with the recipe.
Recipe
1/2 Pound dry Northern White Beans-pick out stones, rinse and soak overnight (2 Cups rinsed canned beans can be substituted)
2-3 Ounces pancetta-finely chopped
1 Large sweet onion-chopped
4 Cloves garlic-minced
7-9 Cups greens-chopped unless baby spinach-leave whole but remove stems (16 Ounces frozen greens can be substituted)
36 Ounces chicken broth
1 Tablespoon lemon juice or vinegar
Salt (may not need salt if broth salted) and ground pepper to taste
Grated Parmigiano Reggiano
Sauté the onion with the finely chopped pancetta in a skillet (large enough for all ingredients) until the onion edges begin to turn a bit brown. Add the garlic and continue cooking for an additional minute.
Add the chicken broth and the soaked beans. Simmer until beans are tender about 1 hour. Unless using canned-immediately go to next step.
Add greens a little at a time. Cook until wilted down then add more. (For the escarole you may wish to brown with the onion just before adding the garlic. This can be done if you're using canned beans since no lengthy cooking OR if you precook the dried beans ahead with a little of the pancetta and onion.)
Add lemon juice and stir in well. Heat everything thoroughly.
Serve sprinkled with grated cheese and topped with croutons. See crouton instructions below.
Croutons
Rustic crusty loaf-sliced one inch thick
Olive oil
Cut one inch across each slice both ways to make one inch cubes.
In a small nonstick skillet heat one tablespoon of oil and coat the entire skillet.
Add bread to fill the bottom of the skillet in a single layer.
Nicely toast all sides of the cubes. Remove.
Add more oil as needed to toast another batch. Toast as much as you need. Extra croutons can be frozen.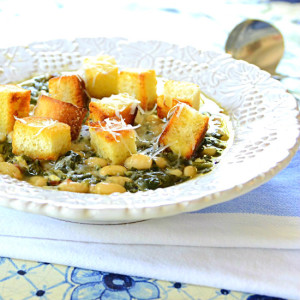 ENJOY!