Hatch Red Chile Sauce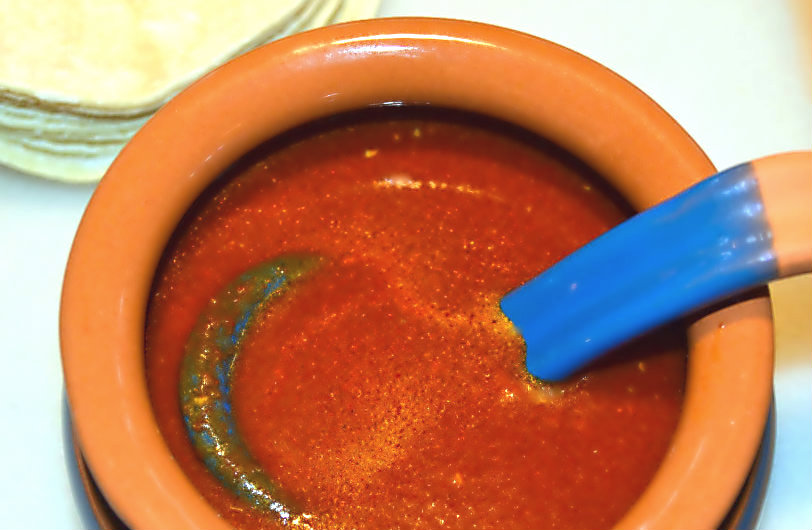 Hatch Chiles from New Mexico make this red sauce. The ornamental cluster of dried pods was a gift from a good friend. Now one of my best friends! Ha! My Enchiladas are more amazing. And today I'm making my first Chile Colorado Beef dish. This sauce has some heat, moderate … just enough to give a little bite but not hide the flavor. I'd like to give credit here but the printed recipe card was simply slipped into the bag with the string of dried pods and has no author. It's a recipe that won't disappoint! Give it a try! Don't know where to buy Hatch Chiles? Try Amazon for dried pods and powder and here for the fresh product. You won't need luck with this recipe!
Recipe
12 Pods
2 Cups water
1 Teaspoon salt
2 Tablespoons corn oil (or vegetable oil)
1 Tablespoon flour
1 Teaspoon granulated garlic (I didn't have any and used 3 cloves of garlic-smashed first then minced)
1 Teaspoon ground cumin
1 Teaspoon ground Mexican oregano
Wash the pods with lots of water. Remove the stem end (it breaks off easily) and remove the seeds and dried membrane. The pod is pretty cooperative and all this can be done with your hands. Be aware these dried pods still emit particles into the air and sneezing or coughing might occur if you take in with a deep breath. Wash hands well following to avoid burning if you rub your eyes.
Place pods into the 2 cups of water and bring to a simmer. Simmer for about 15-20 minutes. Slightly cool before next step.
Pour the above ingredients into a blender and partially liquify. Then pour blended ingredients thru a fine sieve and press as needed to gather the juice. This will make about 2 cups of liquid. (If you don't have a blender this still can be accomplished by mashing the cooked ingredients thru a strainer. Just a longer process.) Add water or tomato juice to bring total liquid to two cups. (Water works perfectly.)
In a skillet add the oil and heat over medium/high heat until hot. Add the flour and stir quickly to avoid clumps. Pour in the pepper liquid and continuing stirring until thickened. If thicker than your usual sauce add additional water or tomato juice.
Stir in salt, garlic, cumin and organo. Simmer over low heat for 15 minutes. It's done.
Now use as you would enchilada sauce or red chile sauce. Makes two cups … enough for a dozen enchiladas.