A Rich Meat Sauce
Italian sauce or Gravy the Old Fashioned Way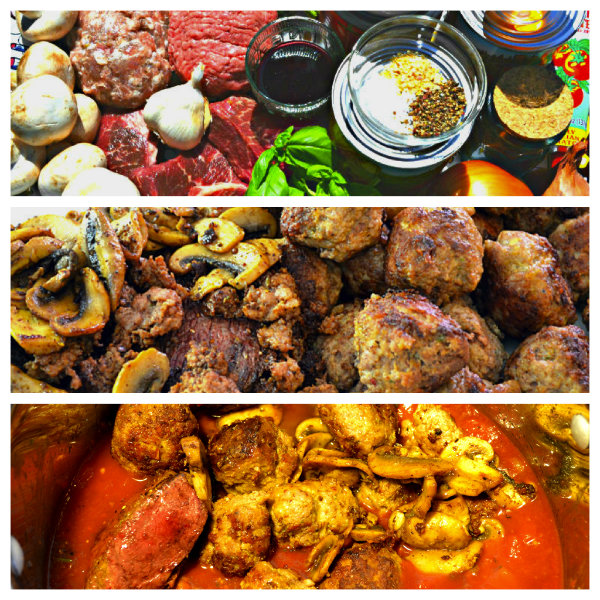 The cooking time is lengthy but a slow cooker works well if it is large enough. I like to cook this recipe on a weekend when the weather has me pretty much trapped at home. The warmth and smells from the kitchen are comforting. And my family loves it.
After cooking for some hours the gravy rests so any excess fat can be skimmed off the top. Sunday it is ready for either spaghetti and meatballs, rigatoni, or lasagna. If there is any gravy left over it is frozen to be used for that quick meal during the week … Or maybe this November when I cook my recipe of bracciole for Marc or Ed.
But what about those jarred sauces! Most are not meat sauces as this is but marinara. There are some very good ones out there … Some being sold on behalf of the TV chefs we know. Giada used a jarred sauce to prepare one of her grandfather's favorite holiday recipes. I have used the brand she used many times. And it is very good. When I use these jarred sauces it is usually not alone … Adding wine, olive oil, finely chopped tomatoes or meatballs to not only extend it but to give it an extra oomph. I do watch for certain ingredients on the label and am cautious about the sodium level.
It's just nice, if you have the time, to make this from scratch.
Recipe
Prep time 30-45 minutes
Cook time 4-5 hours
Makes approximately 5+ quarts
Use 8 quart heavy bottomed pot with lid
5-6 Tablespoons of olive oil
1-1 1/2 Pounds short ribs
1 Pound mild Italian sausage no casing
1 Pound hamburger
Marrow bone (optional and added at the time of browned meats)
2 Eggs
1/4 Cup grated Parmesan
1/3 Cup Italian seasoned bread crumbs
3 Cloves garlic–minced
3 Cloves of shallot–chopped or sliced
1 Large onion–chopped
2-28 Ounce can tomato sauce (Roma tomatoes)
1-28 Ounce can small cut tomatoes
2 Tablespoons tomato paste
8 Ounces of mushrooms–sliced or chopped
3/4 Cup red wine
1/4 Cup cream sherry
1/2 Cup roughly chopped parsley
1/2 Cup torn basil or whole fresh leaves
2 Tablespoons sugar (optional)
1/2 Teaspoon freshly ground pepper
1/2 Teaspoon dried onion flakes
1 Teaspoon Italian seasoning
Garlic salt for sprinkling during browning of meat
Salt to taste
Begin by making the meatballs:
3/4 pound of the hamburger
1/4 pound Italian sausage
1/4 Cup grated parmesan cheese
1/3 Cup Italian seasoned bread crumbs
2 Eggs
1 Clove garlic–minced
The bread crumbs and the sausage provide the seasonings.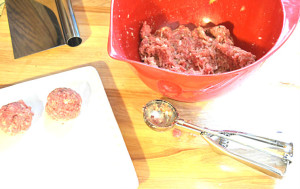 Mix all the meatball ingredients in a medium size bowl. Do not over mix. I use an ice cream scoop to measure each meatball out to prevent me from making bigger and bigger meatballs which I tend to do.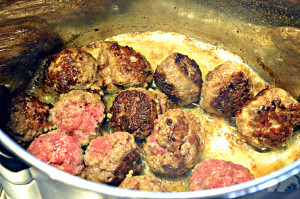 The browning starts with the meatballs. Use two tablespoons of olive oil over medium high heat to begin, turning down if needed. Add meatballs and brown. Maybe not as brown as I got them here. Remove meatballs and set aside. Next brown all the other meat; remainder of sausage, short ribs, and small amount of hamburger, in portions if necessary to maintain heat. Salt the meat while browning with garlic salt.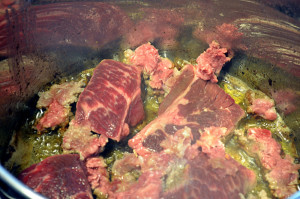 Add olive oil as needed for browning. After meat is browned nicely remove and drain off oil. Add olive oil to pot as needed and add sliced mushrooms to brown. Sprinkle mushrooms lightly with garlic salt as browning.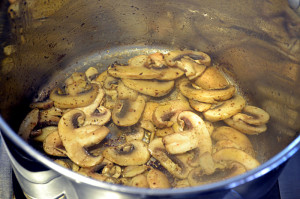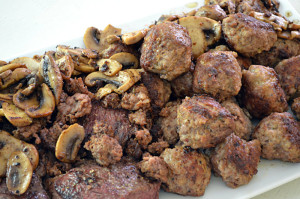 Set aside the meat and mushrooms.
Now sauté the onion, shallot and garlic.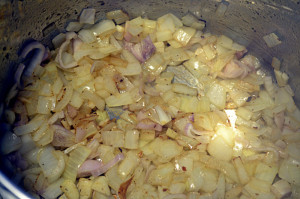 It is time to add the remaining ingredients to the large pot where all this browning has been taking place: tomato sauce, tomatoes, tomato paste, Italian seasonings, pepper, parsley, basil, onion flakes, wine, and sherry. Wait to taste test after adding meat and cooking for awhile before adding sugar and salt.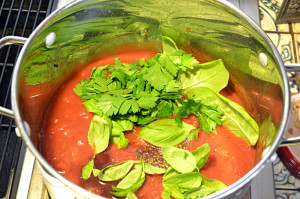 This is prior to adding the meat and mushrooms. After adding the meat and mushrooms bring to a simmer over medium heat then lower temperature to avoid scorch, and cook for about 30 minutes. Then taste for need for salt and sugar. Add as needed. Cook for 1-2 hours, low simmer, then remove the meatballs. Continue to cook on low heat, simmering between 2-3 hours additionally with lid partially ajar until meat falls apart. Use spoon to help break meat apart … The reason for removing the meatballs … to avoid breaking. Add meatballs back about 20 minutes before the end of cooking. Let cool. then refrigerate. You may need to put the gravy into smaller containers to help it cool more quickly. It can be eaten at this point instead but I prefer to refrigerate for easy fat removal. Your choice of pasta … Spaghetti or linguini and meatballs. Mangia!
STAY TUNED … A PASTA DISH WITH THIS SAUCE TO FOLLOW THIS WEEKEND.