Italian Scramble Onion Biscuits
My Favorite Breakfast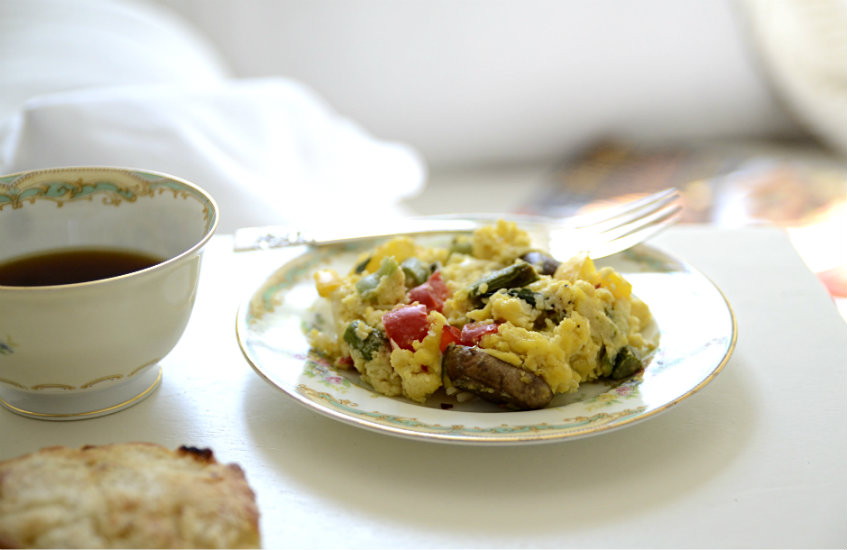 Great day for a brunch! And the chickens are laying more than we can consume. What a great excuse for this superb Italian Scramble accompanied with savory Onion Biscuits.
If you haven't time to prepare this the first thing in the morning it makes a wonderful dinnertime meal.
The scramble is a no meat dish. Italian ham can be added if you desire. Either way it is delicious.
Give it a try. I'd love to hear.
Recipe
Biscuits
Makes one dozen 2 inch biscuits
Bake at 400 degrees F on the middle rack in a preheated oven, approximate time 20 minutes
Bake until the biscuits turn a light golden brown
1 Tablespoon or less olive oil
1 Large onion-chopped
2 1/2 Cups all purpose flour and more for rolling surface
1 Tablespoon baking powder
1 Teaspoon salt
1/2 Teaspoon dried thyme
1/2 Cup unsalted European butter (salted butter?-decrease salt by 1/4 teaspoon at least, regular butter?-can be used-taste and texture will be different but works in a pinch)
3/4 Cup milk
Sauté onion in the oil over medium heat until it is limp but not browned. Set aside until room temperature.
In a medium mixing bowl add flour, baking powder, salt and thyme. Use a whisk to blend dry ingredients.
Cut cold butter into workable chunks, one inch pieces. Add to dry ingredients and mix with fork or pastry cutter until evenly mixed … small pea size pieces.
Add milk to the mixture and blend. Once almost blended add the cooled onions and again blend ingredients.
Remove the dough to a lightly floured surface and knead for about one minute until the dough is smooth.
Roll out the dough to one inch thickness. Cut and place on lightly oiled cookie sheet or use parchment paper. I used neither and had no sticking. But don't recommend.
Bake and enjoy!
Italian scramble
10-12 Eggs-room temperature and beaten slightly
8 Ounces small mushrooms-washed, sliced
1 Clove garlic-minced
1/2 Pound asparagus-cut into one inch pieces
1 Small bell pepper-diced, use red, yellow or green, or combination
1/4 Cup basil leaves-torn or chiffonade
1/2 Teaspoon dried oregano
1/2 Teaspoon red pepper flakes
4 Ounces cream cheese-broken into pieces
1/2 Cup grated mozzarella cheese
1/4 Cup grated parmesan cheese
Olive oil for roasting asparagus and sautéing mushrooms, bell pepper and garlic
Salt and Pepper to taste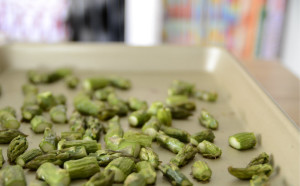 Place lightly oil coated asparagus into a shallow pan and place in preheated 400 degree F oven for 15-20 minutes until asparagus is just slightly tender. Remove and set aside.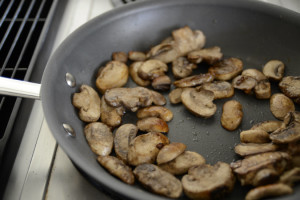 Sauté mushrooms over medium heat in a tablespoon of olive oil until they are slightly brown.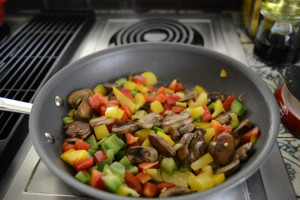 Add bell pepper and garlic to the mushrooms and continue cooking until peppers are slightly tender.
Make sure your skillet is large enough to accommodate all the ingredients. After the vegetables are fork tender add the eggs, cheeses and spices to the vegetables including the asparagus. Cook the eggs stirring slowly to avoid sticking and scorching. After the eggs are almost cooked through add the basil. Taste for salt and pepper. Add as needed. Sprinkle with additional parmesan if you like.
Mangia!