Ketchup For Our BBQ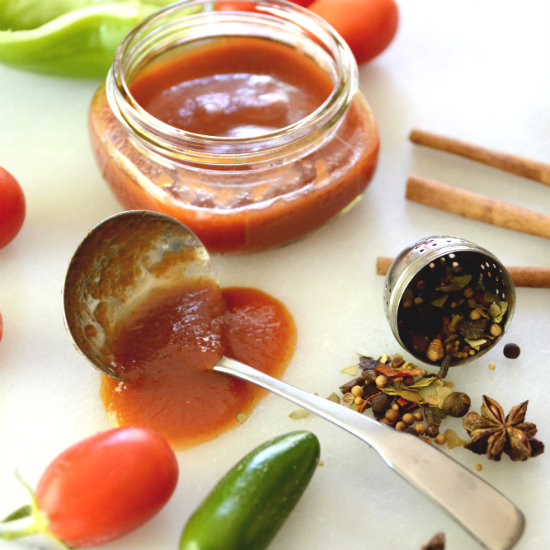 My garden is producing so many wonderful fruits and vegetables. I've made sauces and soups. Roasted and BBQ'd vegetables. Served fresh berries. Enjoyed the salad cucumbers. What can I do now? It's time for a family barbecue. And what condiment do many enjoy at a barbecue with their roasted potatoes, beans, hamburgers, hot dogs and even steaks? Ketchup!
And when you realize how easy it is to make ketchup and the deliciousness of the homemade variety … well, you'll have this on your menu all summer long!
Recipe
Makes 1 generous cup to 2 cups ketchup depending on final preparation
6 Large Roma tomatoes or equivalent-remove and dispose of a slice off the stem end and chop the remainder
1 Tablespoon cooking oil
1/2 Cup finely cut onion-sweet variety
1/2 Green bell pepper-seeded and diced
2-3 Serrano peppers-seeded and minced (optional)
1 Clove of garlic-smashed and minced
1 Teaspoon salt
1-2 Tablespoons packed dark brown sugar
1/3 Cup white wine vinegar
1/4 Teaspoon paprika-not the smokey variety
A spice bag or large tea strainer with the following:
1 Stick of cinnamon
1/4 Scant teaspoon whole mustard seed
1/4 Scant teaspoon whole celery seed
1/4 Scant teaspoon black pepper corns
1 Star anise
1 Bay leaf
1/2 Teaspoon pickling spices
3 Whole cloves
3 Whole cardamon pods-slightly crushed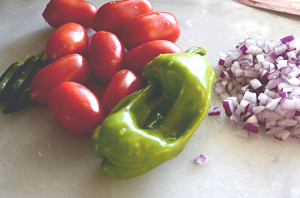 Using a medium sauce pan sauté the onion in oil lightly over low-medium heat for about two minutes.
Add the bell pepper, hot peppers, and garlic and cook one more minute.
Add all the other ingredients except the spice bag.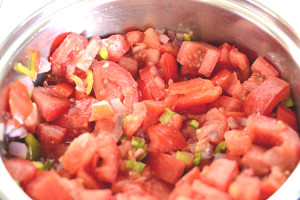 Cook over medium heat for about 15 minutes using a wooden spoon to break up the tomatoes.
Add the spice bag and make sure it is well down into the sauce. Simmer on low heat for an hour and a half. Taste for need of additional salt or spices.
Let cool slightly. Remove the spice bag and dispose.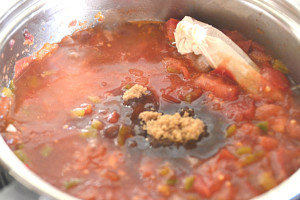 If you don't have a food mill push the cooked ingredients a little at a time through a fine mesh strainer using a wooden spoon. Know that all ingredients will not go through. Save the ingredients that don't flow through the strainer in another small bowl. Scrape the bottom outside of the strainer periodically to get the thickest sauce and add to your sauce.
The sauce will only be slightly thick at this point but will thicken as cooled. Refrigerate for 4-5 hours.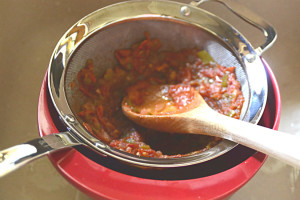 If you opt for thicker sauce you have two options: You can cook down the sauce over low-medium heat after the straining process until it almost reaches the thickness you wish. Then refrigerate to further thicken. Or … Use the ingredients you saved that didn't go through the strainer. Simply use a food processor to puree these leftover ingredients only. Add a little of this puree at a time to your sauce for thickening.
What to do with the ingredients that don't make it through the strainer into the sauce. Share with your chickens or use as a part of a marinade. Or put it in your food processor and puree for a fab spread.