Linguini (Linguine) Alla Puttanesca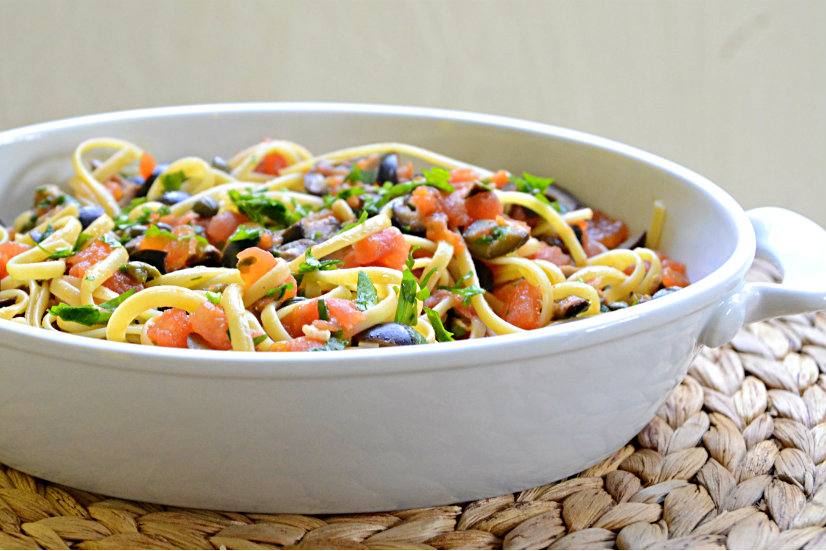 This remains my favorite light pasta meal for so many reasons. Puttanesca is interesting in flavor and in story. It's been near decades since I first heard the story and tried this amazingly simple but delicious sauce. Some may shy away because of the anchovies or cayenne pepper. This sauce is very forgiving not unlike a great lover. Add anchovy paste instead of anchovies and cayenne to your taste. For a vegan diet let the capers do the trick. The result is always amazing.
Versions of Puttanesca are as many as the verses of Lou Monte's Lazy Mary. Hope you enjoy this one!
Recipe
Serves 4 adults
2 Tablespoons olive oil
2 large cloves of garlic-minced
1 Heaping teaspoon anchovy paste (equals about two fillets, this can be increased to 1 T for more intense flavor OR eliminated all together for vegetarians-the capers will carry the flavor)
1 Heaping tablespoon of drained capers
6 Ounces medium pitted black olives-roughly chopped
Pinch to 1/4 teaspoon red pepper flakes
Pinch to dash cayenne pepper
*5 Large Roma Tomatoes-peeled, pulp and seeds removed, diced
1/4 Cup chopped Italian parsley and more for garnish
8 Ounces linguini-cooked al dente in salted water
In a large skillet sauté the garlic over low/medium heat in the olive oil. Sauté for a minute or two without browning the garlic. Add the anchovy paste and stir well. Add all ingredients except the parsley and pasta. Cook pasta while the sauce is simmering. Add the parsley to the sauce at the very end of simmering (about 20+ minutes simmering).
Drain the linguini and add to the sauce. Serve and garnish each serving with parsley.
*Do you need help with the peeling. Here's a trick: First make a small slit on the bottom skin of each tomato. Pour boiling water over your tomatoes and let them set for about one minute. Drain and pour cold water over the top. Drain. Peel easily.
Linguini with Puttanesca. Mangia!