Manhattan Clam Chowder
Grandmother Rose's Favorite Chowder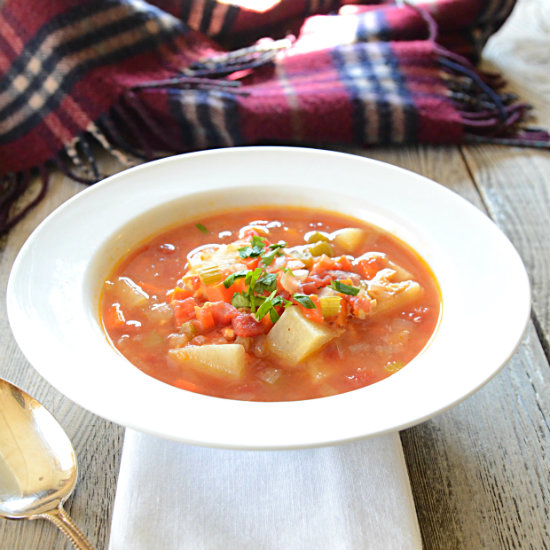 While my Grandmother enjoyed clams prepared in a variety of ways including raw I prefer just a hint of sea breeze wafting up from my clams especially chowder. I've had to take baby steps to develop a palate for seafoods … graduating from fish that tastes like chicken, e.g. halibut, to fish stew with aroma, well, like a fishing pier.
Manhattan Clam Chowder is tomato base and this particular variation is not thick nor creamy. It's light but filling with a mixture of simple vegetables. The clams aren't overpowering. Whether you enjoy raw clams or shy away from any dish with clams I believe you will be pleased with this Manhattan Clam Chowder. A healthy high protein economical dish. A Delicious Dinner Meal!
Recipe
Serves six adults
2-3 Slices of bacon-diced
1 Tablespoon olive oil (or as needed)
1 Small to medium yellow onion-diced
3 Ribs of celery-diced
1 clove garlic-minced (optional)
3 Large carrots-peel and diced
1 Large russet potato-peel (about 2 cups diced)
1 14.5 Ounce can of tomatoes-chopped (Roma tomatoes work better, naturally sweet)
1/2 Cup clam juice for a more clam taste (drain this off your canned clams-use a strainer)
3 Cups water
2 Six ounce cans minced clams (pick the very best-do a search if you aren't sure)
Sprig of thyme
2 Bay leaves
Sea Salt and Pepper to taste
Parsley for garnish (optional)
In a dutch oven cook the bacon slightly over medium heat. If you prefer to cut back the bacon add a little olive oil for sautéing.
Add the onion, celery, carrots and after a few minutes of sauté, add the garlic. Continue for another minute or so. Turn heat down slightly if you see browning.
Add the potato and continue sautéing for about 2-3 minutes.
Add the water (and clam juice if using), spring of thyme, bay leaves, dash of pepper, and bring to a simmer then turn the heat to low. Use lid. Simmer until the potatoes are fork tender but not falling apart, about 20 minutes.
Add the clams and simmer for a few minutes. Taste for salt need. Clams tend to be salty.
Remove the herbs and serve garnished with parsley.