Oatmeal Raspberry Valentine's Day Cookies
Oatmeal cookies With A Taste Of Raspberry Or If You Like, chocolate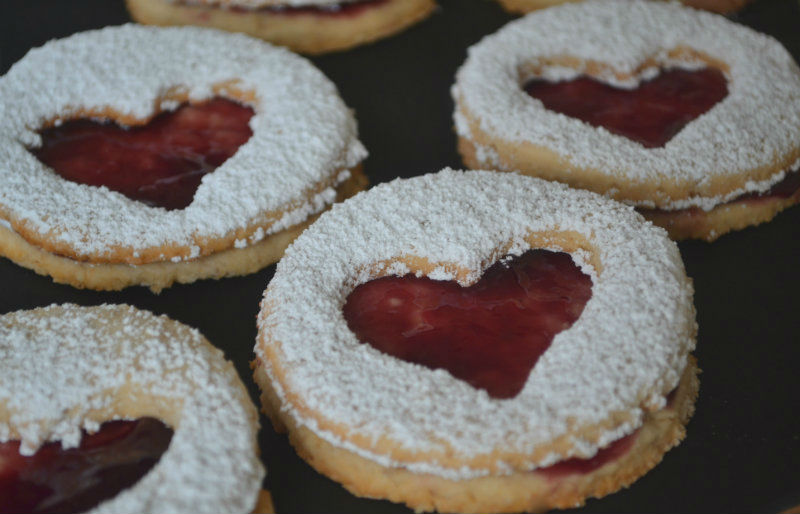 This not too sweet Oatmeal Raspberry Valentine's Day Cookie is a mouth-watering surprise. This recipe is not labor intensive but gives that impression. Your family, your Valentine will enjoy this tasteful treat. If raspberry is not your favorite try strawberry. Or for a really decadent surprise sandwich these with a chocolate filling … maybe even white chocolate with a drip of red food coloring mixed in for the occasion.
Recipe
Makes 24 3 inch sandwich cookies
Bake at 350 degrees F for 12-15 minutes until edge of cookie is slightly brown
1/2 Cup butter-room temperature
1/2 Cup shortening
1 Cup granulated sugar
1 Egg
2 Cups ground 10 minute oats
2 Cups all purpose flour
2 Teaspoons baking powder
1/2 Teaspoon salt, if using salted butter decrease salt to 1/4 teaspoon
1/2 Cup milk
1 Teaspoon vanilla
Jelly or Jam for spreading between cookie layers, or melt chocolate and use as spread
Cream together shortening, butter and sugar. Add egg and vanilla and mix well. Whisk together well the flour, oats and baking powder. Add flour oat mixture in small portions to the creamed mixture while alternating with the milk. This dough will be slightly sticky and requires refrigeration before rolling and cutting. I suggest to speed the process place the dough on parchment paper and flatten a bit with your hands. Place this flattened cookie dough into the freezer until firm enough to roll out … about 30 minutes. Roll the dough on a well floured board to 1/4 inch thickness. Cut with well floured cookie cutters of choice. Here a 3 inch round cutter was used for the top and bottom cookie. Additionally, a one inch heart cookie cutter was used to remove the center from the top cookie.
To make the sandwich place a teaspoon of filling on the bottom cookie and place the heart cut out cookie over the top.
What a nice tasty surprise for Valentine's!