Old Fashioned Chocolate Chippers
Shortening vs Butter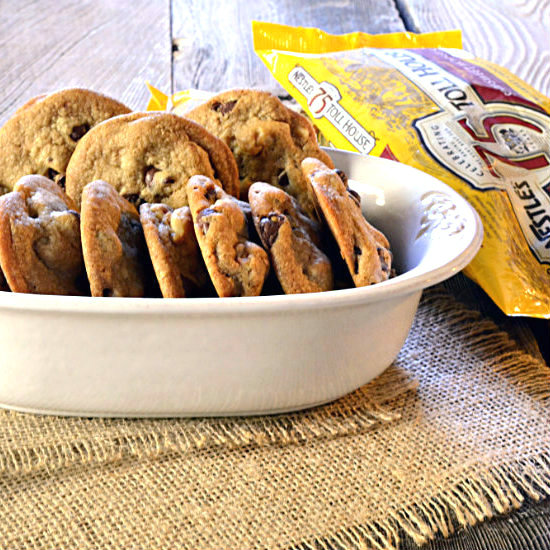 I've been making Chocolate Chip Cookies for many years using the original Toll House Recipe. I don't know if my memory is failing me but I don't remember a butter option … The recipe called for shortening and a teaspoon of water. No longer.
Often we develop cookie (other foods too) taste and texture preferences early on and we tend to go back to these over and over. You may prefer a chewy chocolate chip cookie while another prefers a crispy one and still another may even prefer a Chips Ahoy.
Butter and shortening may be used interchangeably in this homemade cookie recipe but know the results will be very different. There is nothing like a butter taste but I enjoy a taller cookie that is hard to achieve with butter unless the dough with butter is refrigerated until firm before baking. And still there is a chance if baked just a little too long the cookie will be crispy. I have a taller chewy cookie preference but not too tall. I solve this by using half butter and half shortening. I've become accustomed to using salted butter for cookie making. Options for no salt butter were not often available many years ago. And since shortening has no salt I add just a pinch more salt.
The chocolate chips used are equally important. The choices today are pretty varied. Since I grew up on one particular type, the only one available except for a waxy knock off, it's my choice to this day. Use the chocolate chips you and your family like best.
It has been my experience too that the baking makes a big difference in texture. Most old recipes call for a 375 degree F oven. I like to knock this down to 325 degrees … baking a little longer and removing the cookies at the right moment, a slightly golden brown. Any longer and the cookies will become crunchy when cooled to room temperature.
Hope you enjoy comparing some old recipes for this Old Fashioned Chocolate Chip Cookie. And just maybe trying something a little bit different.
Recipes
The ingredients in the following recipes come from three well known cookbooks. Remembering my few notes make your choice for the cookie taste and texture you crave.
Fanny Farmer 12th Edition
1/2 Cup butter
1/2 Cup dark brown sugar
1/2 Cup sugar
1 Egg
3/4 Teaspoon vanilla
1 1/8 Cup flour
1/2 Teaspoon salt
1/2 Teaspoon baking soda
1/2 Cup chopped nuts
1 Cup chocolate chips
Betty Crocker 1st Edition
1/2 Cup soft shortening (part butter)
3/4 Cup sugar (1/2 brown and 1/2 white)
1 Egg
1 Teaspoon vanilla
1 1/3 Cup sifted flour
1/4 Teaspoon soda
1/2 Teaspoon salt
1/2 Cup cut up nuts
1 1/4 Cup chocolate chips
Better Homes and Gardens 8th Edition
1/2 Cup shortening
1/2 Cup granulated sugar
1/4 Cup brown sugar
1 Egg
1 Teaspoon vanilla
1 Cup sifted all purpose flour
3/4 Teaspoon salt
1/2 Teaspoon soda
1/2 Cup broken nuts
1 Cup semisweet chocolate pieces
For all these recipe ingredients follow these instructions:
Measure flour, salt and soda into a bowl. Whisk together and set aside.
Beat butter (or shortening or combination) until creamy. Add sugars and beat until fluffy.
Add egg and vanilla into creamy sugar mixture. Beat until well mixed.
Slowly add the flour mixture to the creamed mixture. Mix until just incorporated.
Beat in nuts into dough or fold in with chocolate chips.
Use a non stick cookie sheet. I'm into Wm Sonoma's Goldtouch. For uniform cookies roll dough into one inch balls and place 2-3 inches apart on the cooking sheet.
Bake at 325 degrees F until slightly golden around the edges and cookies look set about 15 minutes or less. Check frequently and remove the cookies a little earlier. They will continue to bake a short time after removing. Keep in mind each additional batch will bake faster.
Each recipe makes about 2-3 dozen cookies depending on size, 2 to 2 1/2 inch cookie.