Old Fashioned Pancakes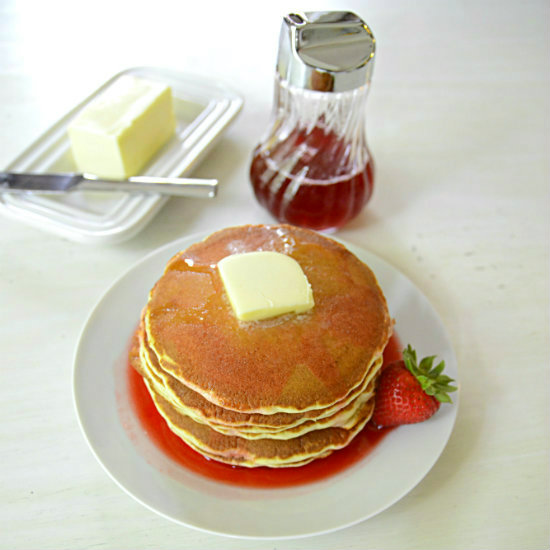 Family's favorite pancakes! The secret is the thinness of the batter and the hot hot griddle. My four children are so into my pancakes. They call for advice when theirs don't turn out. And I always say, the heat of the griddle is crucial, and the thinness of the batter-not too thin but definitely not thick.
There is no need to make the ingredients complex. I like saving that for toppings. Here I've used fresh strawberry syrup. You can find the Strawberry Syrup Recipe Here.
And for other Pancake and Syrup Recipes Try Here.
Recipe
Make sure your griddle is well cured or grease lightly with heat tolerant cooking oil before you heat it.
Mix the following ingredients thoroughly by whisking.
1 1/4 Cup all purpose flour
1/2 Teaspoon baking soda
1 Teaspoon baking powder
1 Teaspoon sugar
1/2 Teaspoon salt
Next add these:
1 Egg slightly beaten
1 1/4 Cup milk (or buttermilk-no need to change the baking soda or powder)
2 Tablespoons cooking oil
Use a whisk and beat until mixed well. The batter will be thin. Give it a minute or two to thicken just a bit. If you need more instruction or see the batter thinness click here: More Pancake Help
Heat griddle over medium high heat. Your first pancake is a test. Only put a small amount of batter on the griddle to test. The batter should try to spread quickly but is then slowed by the heat of the griddle. Your first pancakes may be extra brown. Without changing the temperature under the griddle the first pancakes will lower the temperature. The next pancakes will be golden. Hopefully you have family that like the darker ones. My son-in-law and I fight over the dark brown ones!
Nothing like pancakes!