Panettone French Toast
with Pumpkin
Breakfast or dessert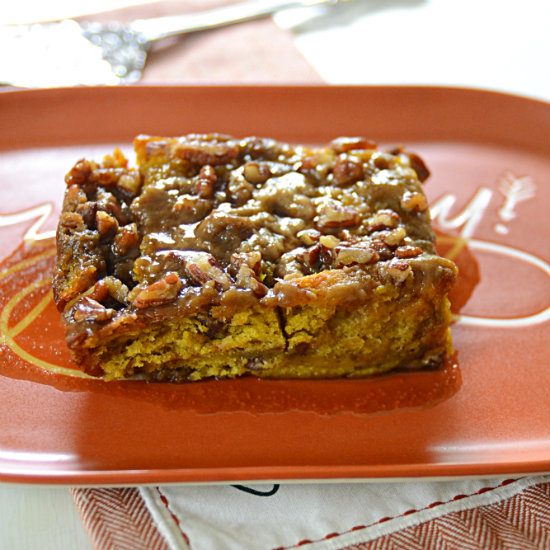 While we're all becoming very familiar with the popular overnight French Toast Breakfast Casserole know this is just a bit different. Pumpkin is added to the egg and milk mixture and poured over a rich Panettone. And why wait overnight!
I've baked my Pumpkin Panettone to use in this recipe. But know you can use just about any variation of Panettone.
I don't know about you but I'm always running out of syrup. As a child I'd concoct these watery versions of maple syrup with maple extract, sugar and water. I was on the right track but just needed to heat the mixture for awhile to reduce and thicken. Enjoy my simple version of maple syrup. No maple extract? No biggie … It works without it too. Really!
Recipe
Preheat oven to 350 degrees F
This serves 6-10
1 to 1 1/2 Pound Panettone with the crust removed particularly from the top and bottom
6 Eggs-well whisked
1/2 Cup canned evaporated milk
1/2 Teaspoon ground cinnamon
1 Cup pumpkin puree (not premixed pumpkin pie filling)
Mix the four last ingredients vigorously but not to a foam.
Butter an oblong baking dish generously.
Pour half the mixture into the baking dish.
Cut the panettone into one inch slices. Dip the first layer of slices into this mixture and then flip over and position in the dish. Don't be afraid to cut the pieces additionally to get a good fit.
Place the second layer of panettone over the top. Then pour the remainder of egg pumpkin mixture over all. Give a few minutes for the the mixture to be absorbed. While mixing up the topping is time enough.
Topping
1/3 Cup all purpose flour
1/3 Cup brown sugar
1/2 Cup pecan pieces
1/4 Cup firm butter
Cut the firm butter into the sugar and flour until this forms pea size crumbles. Add the pecans and mix. Sprinkle over the top of the bread dish.
Bake dish for 45 minutes or until knife inserted in the center comes out clean.
Syrup
1 Cup water
1 Cup brown sugar
2 Tablespoons butter
1/2 Teaspoon maple extract (optional)
Bring water to a boil and add sugar. Stir to dissolve sugar. Simmer over low heat until reduces by half. It may still look somewhat thin but as it cools it will thicken.
Add butter and stir.
Add extract if desired.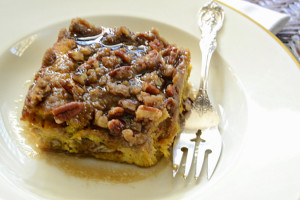 Panettone French Toast with Pumpkin! Enjoy!