Pasta e Fagioli (Pasta Fazool)
Pasta And Beans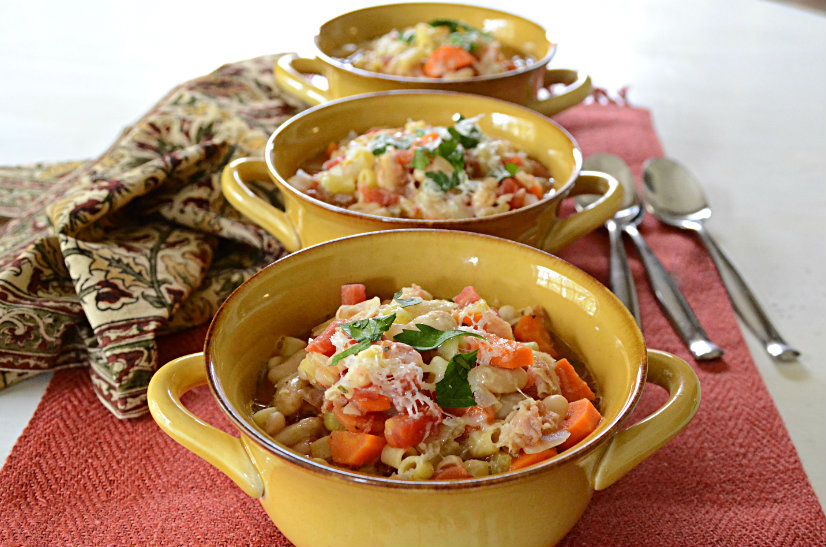 Dean Martin certainly created a curiosity about pasta fazool with his song "That's Amore." But it wasn't until I heard a friend's remark, he was driving around in his corvette when the rest of us were eating pasta fazool, that my curiosity was pushed enough … I needed to know. (Thanks Paulie) Simply put, this is a traditional Italian dish made with, you guessed it, pasta and beans … Originally a peasant soup usually made without meat.
Since those days I've tasted many versions of this soup and pretty much love them all. I've heard the chain, Olive Garden, has their version as well. So, I jumped on the bandwagon and created my own Pasta Fagioli.
Recipe
Serves 4-5
Tablespoon of olive oil
2-3 Ounces pancetta-roughly chopped
1 medium onion-diced
2 Stalks celery-diced (optional ingredient)
2 Medium carrots-diced
2 15 Ounce cans cannellini beans-rinsed and one can rinsed then mashed
1 15 Ounce can chopped tomatoes-petite cut
4 Cups chicken broth
1/2-3/4 Teaspoon mixed Italian spices or 1/2 teaspoon dried basil
1/2-1 Cup ditalini pasta-not precooked (1 cup makes very thick soup)
Salt and Pepper to taste
Grated Parmesan
Heat the oil in a dutch oven over medium heat. Add the pancetta, onion, celery, carrots and sauté for about 10 minutes.
Add the beans, broth, tomatoes, and spices. Simmer for about 15 minutes.
Taste for the salt and pepper need. Add.
Add the pasta and simmer until pasta is tender.
Sprinkle each served bowl with Parmesan cheese.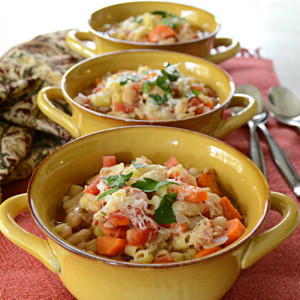 Easy, quick, economical and delicious Pasta Fagioli!
Makes into vegetarian very easily. Change the broth to vegetable and eliminate the pancetta.