Best Peanut Butter Cake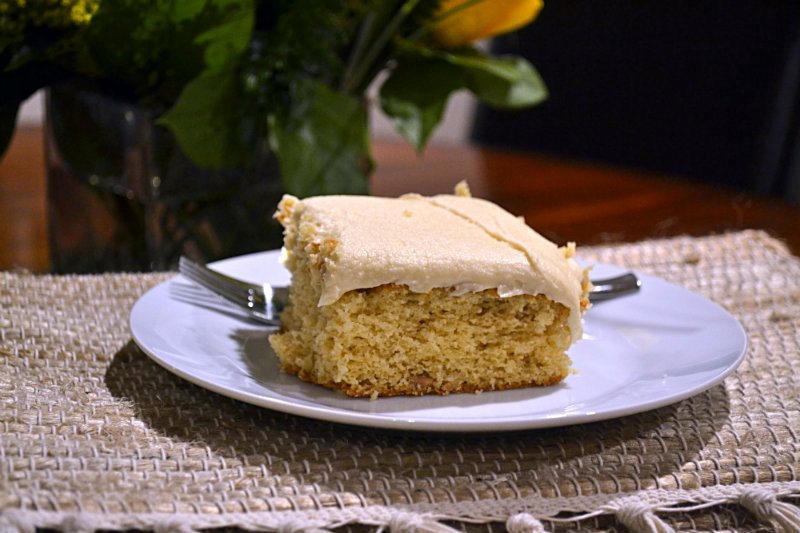 Eating habits have changed over the years. And so have many old recipes. We are more conscious of the nutritional value of what we eat. We scrutinize ingredients. We change up recipes adding good ingredients and eliminating the bad. One of the ingredients we now change out is vegetable shortening, substituting vegetable cooking oil or butter. Vegetable shortening has had a facelift, too, however. Crisco, for one, changed their almost 100 year old formula to remain in the competition. Trans fats have been eliminated. But still we gravitate to the oil and butter. What really competes well with the taste of butter!
Old cake recipes most often use shortening as the fat ingredient. Substituting oil or butter for the shortening can be tricky. The texture of the cake changes and often times not for the better. There are just some cake recipe ingredients better left alone. This Peanut Butter Cake's ingredients are from the 1950 edition of Betty Crocker's Picture Cook Book with slight variation. I've just simply made this a quick one bowl mix.
Recipe
Makes one 8 inch by 8 inch cake
Bake at 350 degrees F for 30-40 minutes until toothpick in the center comes out almost clean
1 and 1/2 Cup cake flour
1 Cup sugar
2 Teaspoons baking powder
1/2 Teaspoon salt
1/4 Cup + one tablespoon organic peanut butter, low sugar
1/4 Cup-less one tablespoon vegetable shortening
2/3 Cup 1%(at least) milk
1 Egg
In a large bowl measure the first four ingredients. Lightly spoon cake flour into measuring cup to avoid packing. Whisk the first four ingredients taking care to incorporate the baking powder well. Add the last four ingredients and mix with electric beater for 2 minutes until all ingredients are mixed well. This may take less than 2 minutes. Reminder, the more you beat the batter the more the texture of the cake changes, and often becomes dry. Bake in a preheated oven. Cool before frosting.
Caramel Frosting
3 Teaspoons granulated sugar
3 Tablespoons of half and half or more
1/4 Cup butter
2 Cups or more of powdered sugar
Caramelize granulated sugar by heating over low temperature burner in a heavy bottom sauce pan until the sugar melts and turns golden brown. In the meantime, heat the butter over low temperature until it melts. Add the cream to the melted butter and warm. Add this warm cream and melted butter to the caramelized sugar in the sauce pan that has been removed from heat. Add the powdered sugar and stir vigorously. For a fluffier frosting beat with an electric mixer instead. Frost the cake when cooled. The frosting is too thin? Add more powdered sugar. The frosting is too thick? Add more cream. This addition of cream need not be heated. Hint: If you add cold ingredients directly to the melted granulated sugar it will immediately harden. You will want to keep the melted sugar liquid until the powdered sugar is added. You can add more cream if needed at this point.
This cake has a great peanut butter taste and for me is a great substitute for peanut butter cookies.