Another Version of Grandmother Rose's Peas
Peas Linguica and Eggs, a Portuguese Breakfast or Dinner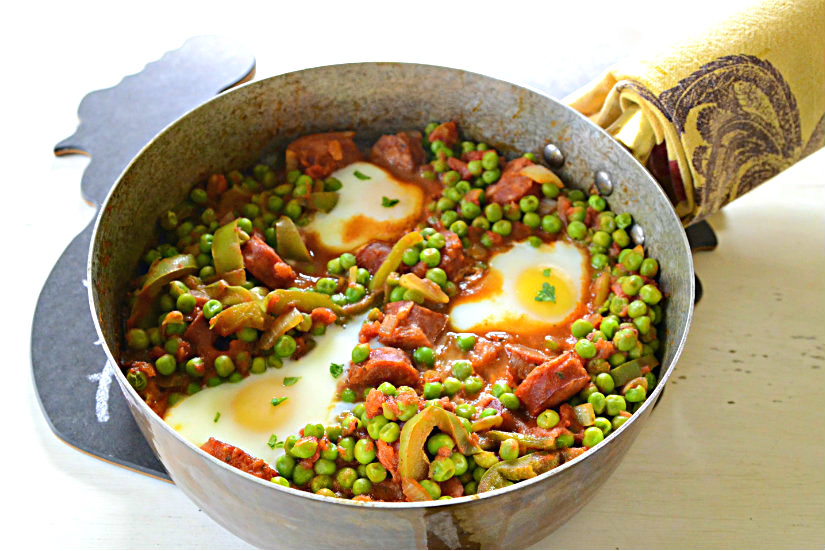 Loved my Grandmother's peas. Always served as a side dish. I don't remember anyone else eating them … Maybe because I kept the bowl close and ignored the nonverbal cues, frequently used at our table, to pass the dish. My bad!
I've taken her recipe a bit further and added a few different ingredients. I think you'll like this Portuguese Breakfast Style that can second as a dinner meal. I probably don't need to tell you but this is not a light dish. Sometimes you just gotta have linguica!
Recipe
Preheat oven to 350 degrees F-can all be done on the stove top but I prefer the oven for the finish
Serves 4 Adults
1 Pound linguica
1 Tablespoon olive oil
1/2 Cup diced yellow onion
1 Large green bell pepper-sliced
1 Large jalapeño-sliced including seeds and membrane if you can handle the heat
1 1/2 Cups crushed tomatoes
1 Pound frozen peas-room temperature preferred
1/4 Teaspoon paprika-the smokey type
Salt and pepper to taste
4 eggs-room temperature preferred
Italian parsley for garnish (optional)
Cook linguica in medium sized skillet (large enough for all ingredients) over medium/high heat.
Remove and drain linguica on paper towels. Pour off grease but use drippings by using the same skillet.
Add oil to skillet and over medium heat sauté the onion, and peppers until fork tender.
Add the tomatoes, peas and paprika and stir throughly. Heat through.
Taste for salt. Add to taste.
Make four wells in the sauce. Add one egg to each well. I like breaking each into a small cup and then pour into the well. Sprinkle each egg lightly with salt and pepper.
Cover with lid and place into the oven. Check every few minutes. Bake until the white is set but yellow still runny or to your liking.
Garnish with a little parsley.