The Best Pizza Soup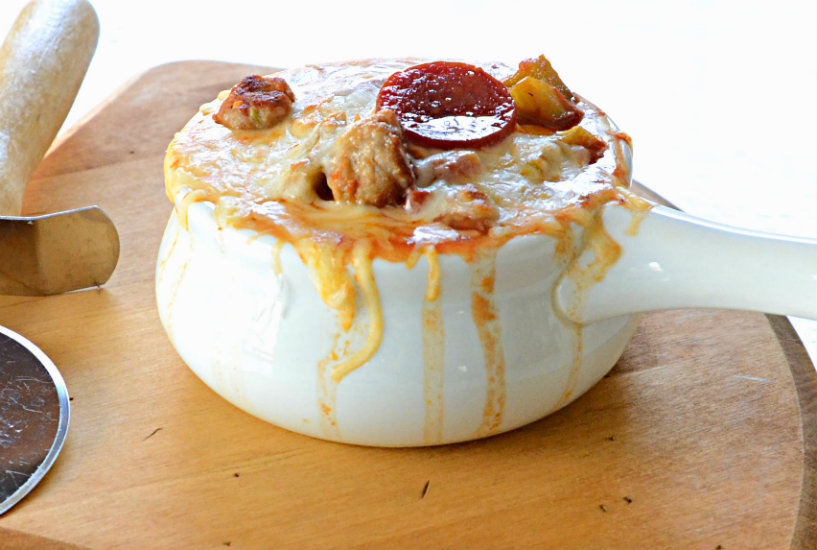 If you love pizza with red sauce you'll love love this! Use the pizza toppings you like on your usual pizza, make it vegetarian, add jalapeños or not … You've got the idea. Make it your own! Ready in less than 30 or make everything from scratch for a truly personal touch. I've made our family favorite, Combination without anchovies. If you're into anchovies add a little paste to give that in-depth taste.
Recipe
Serves 4 adults.
In the last minutes of the soup making bring your broiler to a high heat.
1/2-1 Tablespoon olive oil
1/2 Cup yellow sweet onion-chopped
1/2 Cup green bell pepper-chopped
4 Ounces of pepperoni-inch diameter stick, sliced to your thickness preference
1/4-1/2 Pound bulk Italian sausage-formed into small 1/2 inch or so meatballs
8 Ounces of the very best pizza sauce (or your own recipe)
15 Ounces chicken broth (or vegetable broth or your own broth recipe)
15 Ounces of petite cut tomatoes (or equivalent peeled, seeds removed, chopped Roma tomatoes about 2 cups)
1/4-1/2 Teaspoon Italian mixed spices
Pinch red pepper flakes
Salt to taste
1/2 Cup grated Parmesan cheese
1 Cup grated mozzarella cheese
Optional ingredients: sliced black olives, Canadian bacon, linguica, red bell pepper, mixed Italian cheeses, salami, zucchini, cauliflower, and and….
In a small skillet cook the sausage meatballs, remove and drain off fat. In the same skillet heat the pepperoni to render the excess fat, remove and drain off fat. Set these meats aside.
Heat the olive oil over medium heat in a skillet large enough to hold all ingredients. Sauté the onion and bell pepper allowing to brown slightly but remain al dente. Increasing heat may be required to achieve this.
Once the onion and bell pepper have been sautéed add the cooked meats and all other ingredients except the cheeses. Simmer for 15-20 minutes.
Place soup ingredients into separate serving bowls able to resist high heat. Sprinkle each first with 2 tablespoons of Parmesan cheese followed by 1/4 cup mozzarella cheese. Place under the broiler until cheeses are melted, bubbly and slightly browned.
This soup needs no other accompaniment but if you like add a green salad or crusty bread on the side or float toasted crusty bread on the top of the soup followed by cheeses and broiling.