Seared Pork Chops Dinner Recipes
Side of Cheese Potatoes
Side of Sautéed Green beans
This Pork Chops Recipe will quickly become a family favorite. A great treat anytime. Impress guests too! The addition of apples gives a nice presentation and adds just the right amount of sweetness.
Everyone will feel special at the dinner table with this Pork Chops Dinner. Enjoy!
Recipe
One pork chop per person
Olive oil or an oil that has a higher smoke point
Salt and pepper to taste
Seared boneless chops or bone-in is a simple and delicious way to prepare pork. Pick thick, at least one inch, pork chops. Set out at room temperature 15 minutes before searing. Heat olive oil in skillet and bring to high heat but not smoking. Olive oil does not hold up if held to extreme heat. Immediately add salted meat and turn heat to medium high to high if skillet is cooling too quickly from meat. Turn meat several times to achieve even browning and crusting. There is a school of thought that less turning is better. And then again there are those who find the meat cooks faster and more evenly if turned several times. Add pepper at the end of cooking to avoid burning it. The thickness of the meat will determine the time needed to be fully cooked. As a child I can recall the pork chops being cooked this way and then baked on top the potatoes au gratin to a dryness beyond necessary. Thin pork chops will likely not fair well with searing. Generally, they cook too fast and become dry. Use a meat thermometer to check for doneness. One inch chops should be checked after 6 minutes per side. The meat will continue to cook after removed from the heat.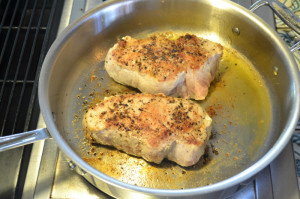 Seared Apples
1 Golden delicious apple per chop
1 Granny Smith apple per chop
1-2 Teaspoons salted butter per apple
Peel, core and slice the apples. Melt butter over medium heat. Do not allow butter to turn brown. Add sliced apples. Allow apples to brown if desired before turning. The Granny Smith will cook fast. Cook to desired tenderness. Cooking too long will produce applesauce. Place on top of pork chop. No additional seasoning needed.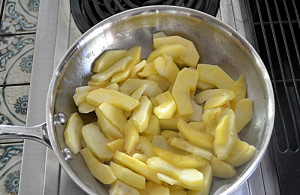 Layer the apples as thinly as possible and gently turn after underside is lightly browned.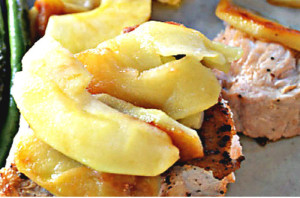 Just Delicious!
My Recipe, Gwynne Janelli Inspired
Cindy Janelli and I were jocks together at Green Acres Middle School. She and I had brothers the same age and both played a mean game of football on the same team luckily. So while my father and hers were busy with the football coach, my mother and Gwynne were playing bridge. Mrs. Janelli was kind and generous. And she became part of Downtown Visalia … working at one of the very few fine clothing stores on Main Street for 40 years. If you happened into Schelling's you probably remember her … Tall, slender, attractive, shortish brown hair and a genuine smile. I apologize for changing up your recipe that has become a family classic over 30 years now. My son, Steve, loves this as a side dish to just about any meat dish. It started out as a side dish to a standing rib roast. It is a potato dish that can be enjoyed as soon as it is put together without the final baking. The one change I've made is to eliminated the cream of chicken soup. I seldom have canned soup in my pantry. So I needed to find a substitute.
Cheese Potatoes
10 Servings
Bake 350 degrees until cheese melts
7 Medium white potatoes–washed, cut in half before cooking
2-3 Whole bay leaves
1 and 1/2 Cups sour cream
2 cups Grated sharp cheddar cheese–reserve 1/2 cup for topping
3-5 Green onions including tops, sliced
The following replaces the canned soup:
2 Tablespoons butter
3 Tablespoons all purpose flour
1/2 Cup milk
1/2 Cup vegetable or chicken broth or reconstituted bouillon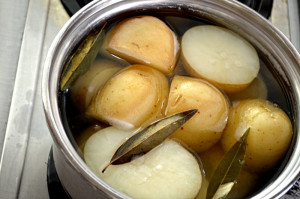 Step 1: Boil potatoes with bay leaves until fork tender but not over done.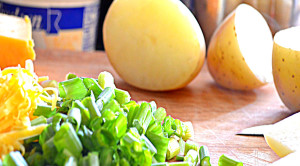 Step 2: Grate cheese, slice onions, and peel and medium cube cooked potatoes. Discard bay leaves.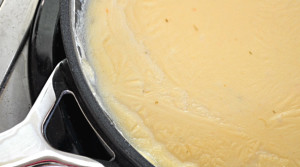 Step 3: Melt butter in small skillet. Add flour and cook until bubbly over medium heat. Add milk and broth and stir until thickened. Remove from heat. Cool slightly. In a large bowl pour this over potatoes, cheese, sour cream and onions. Mix and pour into baking dish. Top with reserved cheese. Bake at 350 degrees F until the cheese sauce bubbles.
SAUTÉED Green Beans
Green beans, your desired serving size
Olive oil
Garlic–chopped
Salt and pepper if desired
Heat olive oil over low heat in a skillet that can accommodate all green beans. Add garlic and sauté. Remove garlic and save. Turn heat to medium and when temperature increases add green beans. Stir to avoid burning. Cook until slightly tender and browned. Add back garlic, and salt and pepper if desired. Serve.