Caldo Verde, Portuguese Green Soup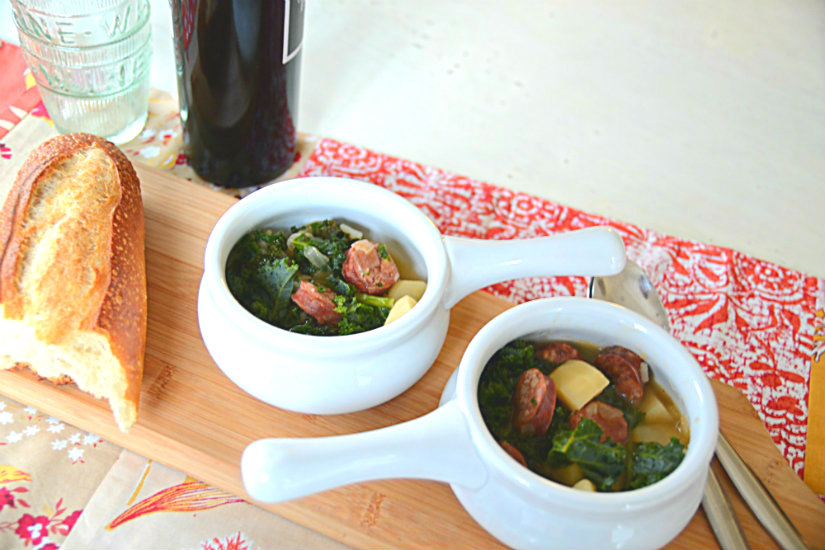 This is a simple one with only three main ingredients. Meant to be a main dish but certainly could be a side without the linguica … making it vegan. Kale is often used in Portuguese cuisine and doesn't fail to be the delicious star.
The preparation and cooking is short in duration making this a perfect after work meal on these cold winter nights.
Recipe
Total time for prep and cooking 30 minutes max
Serves 4 adults
2 Tablespoons olive oil
1 Onion-chopped
1-2 Cloves garlic-minced
4 Potatoes-peeled and cubed
13-16 Ounces linguica (optional)
5 Cups water, more as need, Or broth-vegetable or chicken
1 Pound kale-spine removed and chopped or chiffonade
Salt and Pepper to taste
Heat the olive oil in a 5-6 quart pot. You will need the space for the kale. Sauté the onion until tender. Add the potatoes and continue cooking for several minutes. Add the garlic and cook until the garlic is tender but not browned. Add one cup water or broth. Turn heat to simmer. Cover the pot and cook the potatoes.
In the meantime, cut linguica in one inch lengths. Cook in a skillet over medium heat long enough to cook out some of the excess fat. Drain and set aside.
When the potatoes are cooked use a blender to cream, or mash. I prefer to skip this step but for those that need a more intense taste in the soup's broth this is good. You can also do this to half the potatoes and leave the other half cubed.
Add the remaining water or broth. You may need to add more later to get a soupier finish. Add salt and pepper to taste. Add the linguica and top this all with the kale. You may need to add some kale and wait for it to cook slightly and then add the remainder in order to get it all into the pot. The kale will cook from the steam rising in the pot and doesn't need to be in the broth to cook. The kale will take about 4-5 minutes to cook. During this process leave off the lid. This will help the kale keep its color. Stir the soup thoroughly and taste for need of more salt and pepper. Add if needed.
There you go. Curl up and eat by the fireplace … my choice.