Portuguese Hash
with Chouriço and Linguica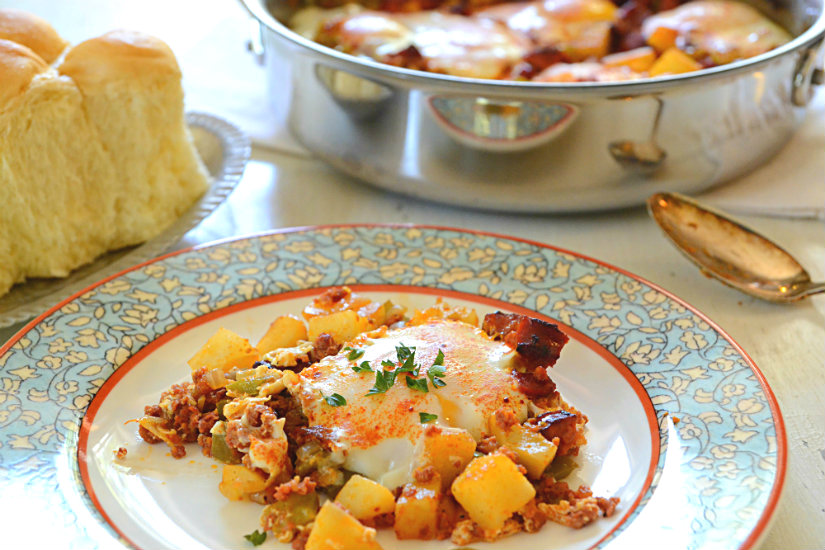 The recipe is simple enough. It's about finding the right ingredients. Chorizo is plentiful around here but chouriço … not so much. So if I'm putting together this recipe I must be prepared to travel to a neighboring town where there is a Portuguese Bakery that happens to have chouriço as well as traditional Portuguese baked goods. Not so bad because it's an excuse to load up on some goodies. In a pinch look for Spanish chorizo … It's the closest to Portuguese chouriço. Now that we have that cleared up let's not forget linguica. Choose your favorite linguica, mild or hot, heavy on paprika or not. Now we're just about ready to begin. Just a few more ingredients.
Recipe
1/2 Pound chouriço-removed from casing
1/2 Pound linguica-one inch slices, then quarter
2 Tablespoons olive oil
1 Medium sweet yellow onion-diced
1 Green bell pepper-diced
1 Pound potatoes-peeled and cut into small cubes
1/4 Teaspoon garlic powder
1/4 teaspoon salt or salt to taste
1/4 Teaspoon ground pepper or pepper to taste
6 Eggs
1/4 Teaspoon (or more if you're into it) sweet and smokey paprika-Portuguese made if possible or Spanish made in a pinch
Parsley for garnish (optional)
In a medium skillet over medium to medium high heat cook the chouriço, casing removed, to render off some of the fat. Drain and set aside. Now add the linguica after it has been cut into one inch slices and each slice again into fourths. When you have rendered off fat drain and set aside. Do not over cook meat. It will be cooked again in the hash. So it doesn't need to be completely done.
In a separate large skillet heat the olive oil over medium heat and add the onion first, followed by the bell pepper. Cook both until slightly tender. Now add the potatoes and stir with garlic powder, salt and pepper. Try to avoid stirring at this point so potatoes can caramelize and brown. Careful not to burn. You may need to turn the heat down slightly. Cook until potatoes are tender firm. This may take 10 to 15 minutes depending on the cube size and the potato type.
Add the meats and stir. Using a spatula works better to keep potatoes intact. Finish cooking all … most likely just a few minutes.
Now over medium heat make 6 wells in the hash. Add an egg to each. Sprinkle the entire top of the dish with the paprika. (You can add this during the addition of the salt and pepper if you'd rather.) Cook the eggs to your preferred doneness. This surprisingly takes some time.
For a beautiful browned look place the skillet under a high broiler heat for a minute or two. Watch carefully not to burn.
It's done! Enjoy!