Portuguese Turnip Green Soup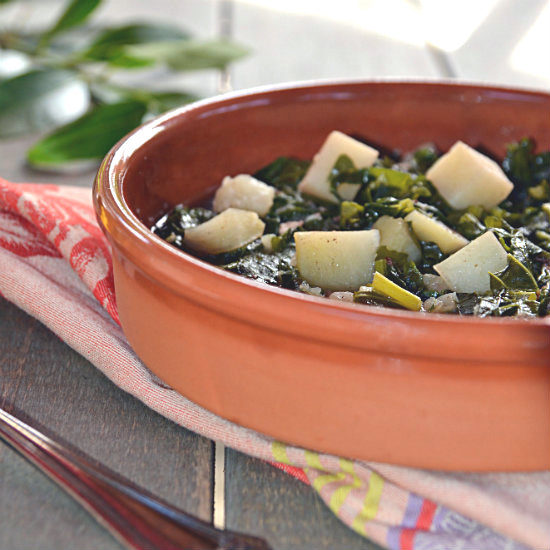 Soup that pairs nicely with Portuguese Sweet Bread, Portuguese Meat Bread or Rustic Cornbread. Or no bread at all! If you're concerned about the bitterness of turnip greens in this soup it's pretty much without need. With the little bit of meat, olive oil and vinegar the greens are pretty tame. Let's not totally take away the characteristic of this vegetable. Piquant can be a good thing.
Recipe
1 Tablespoon olive oil
1 Pound bone in short ribs
1/2 Cup finely chopped onion
1 Large clove of garlic-minced
3 1/2 Cups chicken broth or water (Or water broth combination)
Salt and Pepper
1 Large bay leaf
1 Heaping teaspoon ground all spice
4 Cups peeled and diced potatoes
8 Cups fresh turnip greens cut in ribbons or chopped
1 Tablespoon cider vinegar
Use a large dutch oven about 3-4 quart size for this recipe.
Heat the oil in the dutch oven over medium high heat and brown the short ribs. Salt and pepper meat as you go. When nice and brown turn the heat down to medium and add the onion. Cook onion until golden and tender. Add the garlic and cook it with all for about one minute.
Cover with the broth or water.
Add the bay leaf and all spice. Turn heat to low simmer, place lid and cook until meat is falling from the bone or almost so. About two hours.
Add the potatoes and greens. You may need to add a little of the greens at a time, adding more as they shrink into the liquid.
Stir in the vinegar. Add about a teaspoon of salt or salt to your taste. Keep in mind if broth is used you may need less salt. Add pepper to taste. Add more liquid if you like your soup soupier.
Cook the potatoes and greens until tender about 20-30 minutes, lid on.
Remove the bay leaf and the short rib bones.
It's ready!