Pumpkin Pie Spice Caramel Corn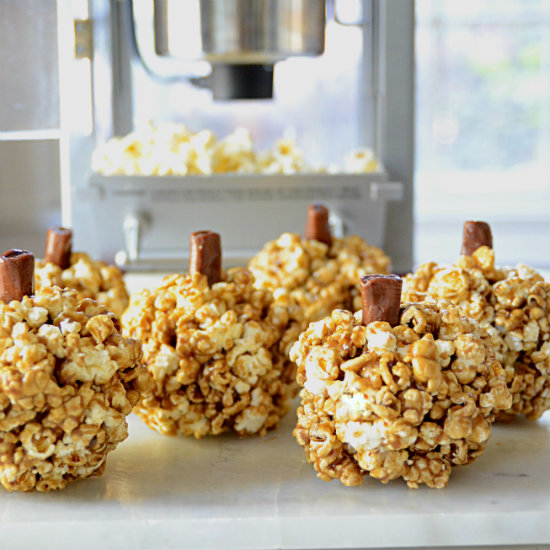 Buttery sweet caramel with just a touch of pumpkin spices … What a great Fall Tradition! Shape the popcorn while hot into balls add a stem for an extra treat. Or simply allow the finished caramel corn to cool then break it apart to serve in a dish. Beware, one bite and you're hooked. This recipe makes 6 large popcorn balls or approximately 12 cups of caramel corn. You may modify this recipe by adding 10 ounces or so of nuts during the baking period … Or candies can be added after the baking as the caramel corn is cooling. This is just a great recipe to add to your Fall recipe collection!
Recipe
Preheat oven to 250 degrees F
1/2 Cup butter
1 Cup brown sugar
1/4 Cup Karo-light or dark
1/2 Teaspoon salt
1 Teaspoon Pumpkin Spice
1/4 Teaspoon baking soda
1/2 Teaspoon vanilla
16 Cups popped corn-I microwave several packages to save time, butter & salted variety, your choice
Small Tootsie Rolls for stems
Other candies or nuts optional
Measure salt, spice, and baking soda into a little dish and set aside.
Pop the popcorn, remove any un-popped kernels and place into a large pan that can accommodate all the popcorn and caramel without overly crowding. Place into the preheated oven to keep warm.
In a saucepan add the butter, sugar and corn syrup. Cook over medium-low heat until it comes to a boil. Boil for 5 minutes on low heat without stirring.
Remove the caramel from the heat and add the measured salt, spice and soda. Stir. Add the vanilla and stir.
Remove the popcorn from the oven and pour the caramel evenly over the popcorn. Stir to mix. Add nuts at this time if you desire.
Place into the oven for an hour, stirring every 15 minutes to mix.
Remove from oven. If you are making popcorn balls be prepared to begin immediately. Add candies now. Avoid pouring candies onto the bottom of the baking pan where most of the heat is retained. It will potentially melt the candy. The best to do is remove the caramel corn to parchment paper or marble top and sprinkle with candies and immediately form the popcorn balls. As the caramel corn cools it will no longer adhere. Use buttered hands or kitchen gloves. Add stems to the top with slight pressure.
For loose caramel corn simple remove from oven. Pour onto marble surface or parchment paper. Allow to cool completely then break apart and serve.
Enjoy!