There is nothing like a simple pumpkin pie!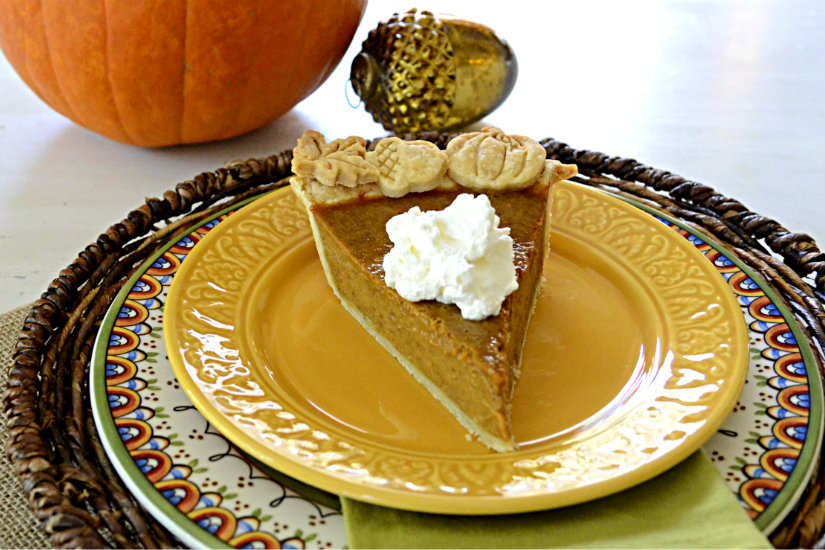 Pumpkin Pie is one of the easiest and quickest pies to put together. Well, if you're not making your own puree. I mentioned I've cooked raw pumpkin for my pies in the past. Once! When I found the taste was not different from the Libby's canned puree I quickly eliminated the step. I'm a researcher from way back, cancer research that is … So, I have to add my taste test was not particularly scientific. I was the only taste tester before I added the spices. And I had a prejudice but in favor of my cooked pumpkin. I wanted my cooked pumpkin to taste differently … better. It just didn't. Maybe others have had a different outcome. What do you think?
You may have noticed I've made the pie crust from scratch. In our family we have always made the pie crusts for any pies we've made. And after years of eating pie this way it's hard to change. In fact, to me homemade pie crust makes this pie whether you eat the crust or simply eat the filling off it. Yes, that's a bit strange. And I'm trying to think of an analogy but I can't.
When I mention the importance of pie crust I'm referring to the taste and texture. In the last years I've used these little cutters just for fun. Adults and children just like the festive look. Me too.
Recipe
Makes a 9 inch pie
Preheat oven to 400 degrees F
One nine inch pie crust-for this pie i like to use a butter shortening crust. Use your favorite pie crust or use the one I have included here.
Crust
1 1/2 cups all purpose flour
1/4 cup cold butter
1/4 cup vegetable shortening
1/2 Teaspoon salt (a little less if using salted butter)
4-5 Tablespoons cold water (a little at a time, may not need all)
Measure flour and salt and whisk. Cut in shortening and butter. Don't be afraid to use your hand to cut these into flour especially if the butter is very hard. But do slice butter into smaller pieces to begin. The trick to light and flaky crust is to use as little water as you can and not to overwork the dough. Add the water a little at a time and as soon as the dough begins to adhere well stop adding the water. You may not use all the water.
Roll out the dough on floured board to exceed your pie plate (turned upside down on the dough) by about 1 1/2-2 inches all the way around. Place the dough carefully (fold over and lift) into the pie plate and crimp the edges. Not to worry if the crust falls apart here and there … do a patch job by pinching it together. It will still taste delicious. If you wait to roll it out perfectly you might work the dough too much and find it tough.
Pumpkin filling
This recipe is a combination of Libby's and my mother's
1 Cup sugar
15 Ounces of pure pumpkin (careful not to confuse with pumpkin filling)
1/2 Teaspoon salt
1 Teaspoon cinnamon
1/2 Teaspoon ground ginger
1/4 Teaspoon cloves
Pinch of nutmeg
3 large eggs
12 Ounce can evaporated milk
In a large bowl add eggs and whisk vigorously.
Add all other ingredients except the milk and whisk vigorously. Add milk slowly to avoid splash and mix thoroughly.
Pour into unbaked pie shell and bake for 40 minutes or until a knife inserted half way between center and the crust comes out clean.
Garnish with sweetened whipped cream. !/2 pint heavy whipping cream, 2-3 T powdered sugar and 1/2 t vanilla. Whip cream to soft peaks and add the sugar. Continue whipping … add the vanilla and whip to a firm but creamy peak.
Simply delicious!