Pumpkin Log Or Torte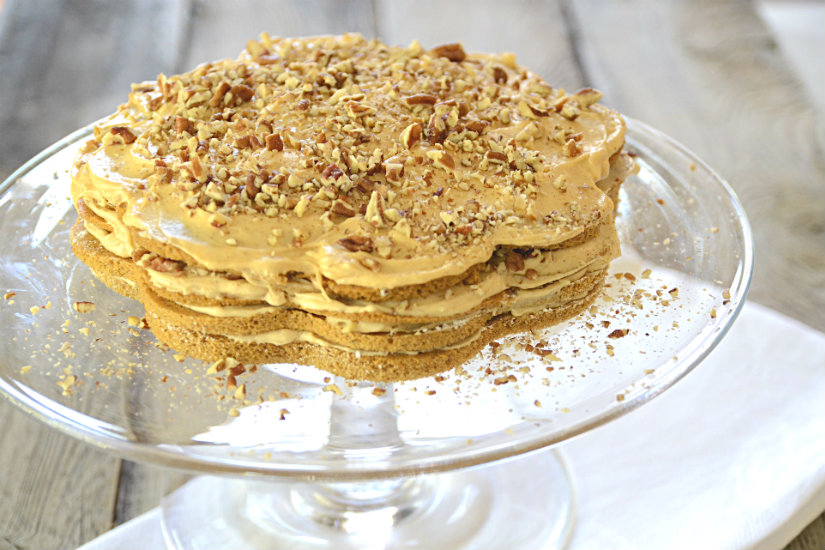 Every recipe I create for my blog has a story. My file is overflowing with handwritten, typed or photocopied delicious recipes. Anything less wasn't saved. Many are decades old not unlike this one.
For years I worked with patients with cancer and during the holidays we were flooded with wonderful cakes, cookies and candies. Pumpkin roll was one of the treats. It was so light yet rich … and who doesn't like pumpkin! The recipe was shared too. As the years passed I stayed loyal to our traditional pumpkin pie during holidays and never made this recipe 'though I visited it frequently.
Today I pulled out the recipe and did an internet search to make sure it was original. And then what did I do? I changed it just a bit … not because it needs it but to give it a new look.
Recipe
Preheat oven to 350 degrees F
Prepare three 9 inch cake pans, grease and flour, parchment cut for the bottom will give an extra safety to prevent sticking. Grease and flour parchment too.
3 Eggs
1 Cup sugar
2/3 Cup cooked pumpkin (canned)
1 Teaspoon lemon juice
3/4 Cup all purpose flour
1 Teaspoon baking powder
2 Teaspoons cinnamon
1 Teaspoon ginger
1/2 Teaspoon nutmeg
1/2 Teaspoon salt
Powdered sugar if making Log, otherwise not needed
Beat eggs for five minutes. Add sugar, pumpkin and lemon juice. Beat until sugar appears dissolved.
Whisk together the dry ingredients (excluding powdered sugar).
Add to flour mixture to egg mixture and mix until just incorporated.
Pour into three prepared pans for torte. I used four pans but this doesn't work easily. 3 is best.
Bake in the oven for just about 10-12 minutes. Check after about 7 minutes. Cake should bounce back when pressed in the center … or begin to pull away from the edges of the pan.
Cool for about 5 minutes then turn out onto wire rack or parchment or something that provides ease when lifting it off. The traditional powdered sugar on a towel can be used too.
Frosting
2 1/2 Cups powdered sugar
4 Ounces cream cheese
6 Tablespoon butter
1 Teaspoon vanilla
1 Teaspoon pumpkin spices
1-2 Tablespoons cooked pumpkin
1/8 Teaspoon salt if using unsalted butter
1 Cup finely chopped pecans
Beat all the ingredients except for the pecans until creamy. If the frosting is too thin (thick and creamy is the secret) add a bit more powdered sugar.
Frost between layers and sprinkle each layer with chopped pecans. Ready to eat.
Pumpkin Log
Follow torte directions except pour the batter into a small jelly roll pan that has been greased and floured and parchment applied. Don't forget to grease and flour parchment too. Bake until done about 15 minutes.
Remove from pan, after resting for about 5 minutes, onto a dish towel sprinkled generously with powdered sugar. Sprinkle the top too. Begin rolling at the small end, with towel in place, toward the other small end until all rolled up. Let cool.
Unroll after cooled and spread with frosting (filling). Sprinkle with nuts and then roll up without the towel this time. Place seam side down on your serving dish or wrap temporarily in parchment. Refrigerate until filling firms … for easy slicing.
Either way this is a perfect Pumpkin Dessert.