Salads and Dressings
Vegetable Salads for Days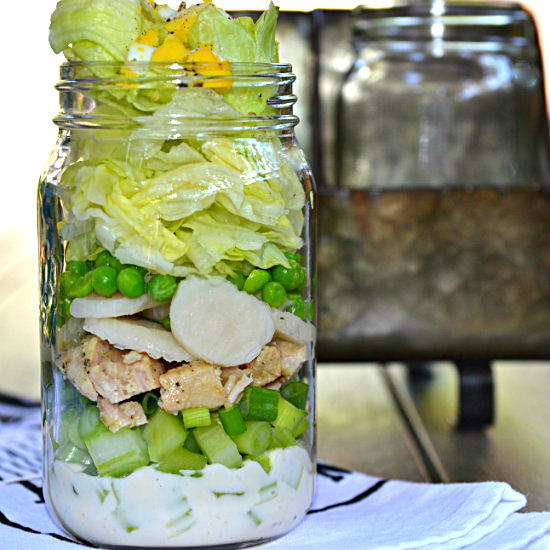 Today begins my Vegetable Salads for Days posts. I'm starting with recipes of times past (mom's) and moving forward to more calorie-concious salads & dressings. All are great and have a place. This layered salad is perfect especially in this single serving jar. All the ingredients can be visualized … Important if your family is like ours. Not everyone likes all the ingredients. These single servings are fun and can be individualized. Truly very little extra time on your part. Especially great for those barbecues or picnics!
Recipe
Layered Chicken Salad
2 Stalks celery-diced
4 Green onions-sliced
1 1/2 Cups of cooked chicken (or turkey or shrimp)
1 Can sliced water chestnuts
8 Ounces best frozen peas
1/2 Head of iceberg lettuce or equivalent of your fav lettuce or salad greens-torn into small pieces
2 hard boiled eggs-chopped
Dressing
1 Cup Miracle Whip
2 Tablespoons vinegar
2 Tablespoons sugar
1/4 Cup grated Parmesan (& a little extra for sprinkling)
This can be prepared and served immediately. But it is suggested the dressing be mixed several hours before.
Mix the dressing ingredients altogether.
In a large preferably glass bowl to show off ingredients layer first 1/2 the dressing.
Over the dressing layer the celery and green onions.
Next the chicken followed by the water chestnuts.
Next add the frozen peas. Peas defrost quickly … if you are serving right away it's best to remove the peas from the freezer earlier.
Add the torn lettuce over all and add the remaining of the dressing. Spread evenly. Sprinkle with the chopped egg and a few sprinkles of Parmesan.