Scones In Any Flavor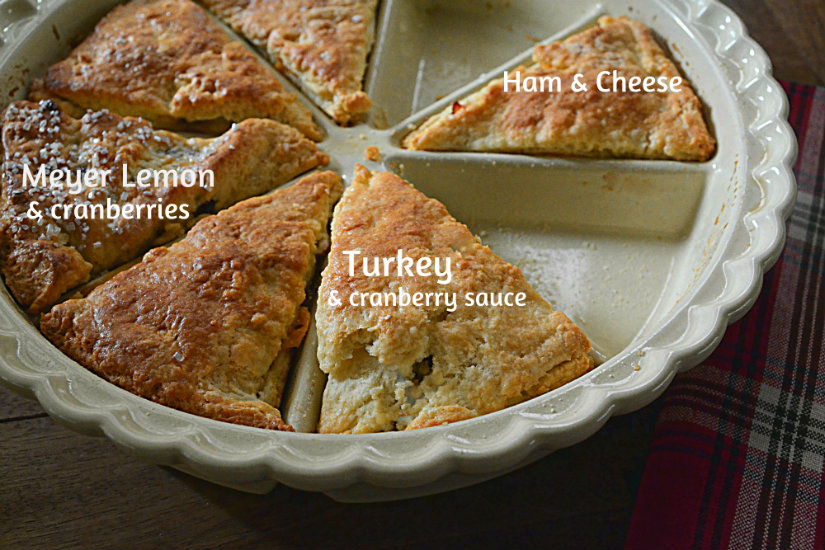 This is a basic scone recipe with multiple flavor possibilities. It's just ever so slightly sweet that adding meat or cheese isn't out of place. Use it for your leftover turkey and cranberry sauce for a savory lunch or snack. Or simply add Meyer lemon zest and chopped cranberries for a more acceptable tea accompaniment. This scone recipe doesn't remind one of sweet rolls or a sweet breakfast treat. It definitely has a biscuit taste and texture. Simple and few ingredients.
Recipe
Preheat oven to 450 degrees F
2 Cups flour and a little more for rolling surface
2 1/2 Tablespoons sugar
3 Teaspoons baking powder
3/4 Teaspoon salt
1/3 Cup butter-cold (or shortening if preferred)
1/2 Cup cream
1 Egg-hand beaten
Whisk the first four ingredients in a large mixing bowl.
Cut in the butter or shortening until crumbly.
Mix egg and cream then pour into flour butter mixture and mix.
Pour mixture onto floured surface. Knead dough slightly then roll out into 1/2 inch thickness. Cut into triangles. Baste tops with cream and add sugar crystals if desired.
Bake for about 10 minutes or until lightly brown on top.
For Meyer Lemon and Cranberries: Add about 2 tablespoons of lemon zest and 1/3-1/2 cup chopped dried cranberries (cranberries with sugar added in the drying process) to the recipe at the end of the mixing process.
For Ham and Cheese or Turkey and Cranberry Sauce: Roll out dough to about 1/4 inch, cut into triangle, place filling on triangle in single layer, top with another triangle of dough.
Try any number of combinations. Nuts, orange zest or orange juice for part of the liquid, bacon, chocolate chips, strawberries, blueberries….