Our Family's Comfort Food, Portuguese Sopas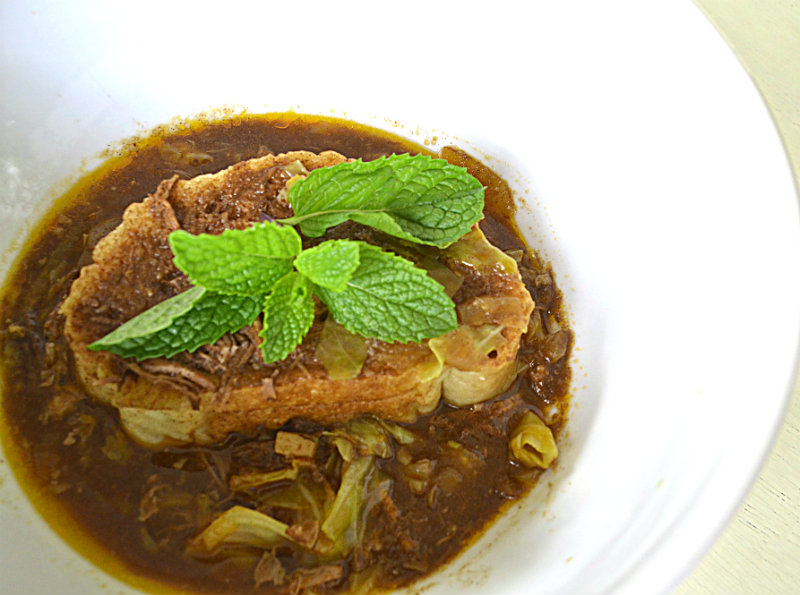 Portuguese Sopas is a traditional soup from the Azores. It is made each year for a celebration occurring about two months following Easter. For seven years my brother, Dan, helped with the preparation of this sopa do Espirito Santo for our hometown celebration.
We enjoy eating this soup, his recipe here with my tiny variation, throughout the year especially in the colder months. To us it's a comfort food. Yep, some of the guys in our family can eat this morning, noon and night … loving every spoonful. Dan's son Stephen admits!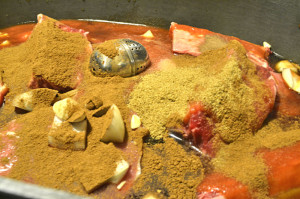 All ingredients with the exception of the cabbage, bread and mint have been added. My Grandmother would say, don't be afraid of spices!  Now for the long cooking to meld the flavors.
Recipe
Serves 12-15
You will need a 12 quart pot with lid if you are cooking on top the stove. For oven cooking you will need a 12 quart roasting pan with lid. This recipe does revise well to dividing in half.
4-5 Pounds of boneless rump roast-cut into generous size chunks
2 Pounds of bone-in beef short ribs
Soup bone-the marrow produces much of the flavor (shank cut with meat can be used in a pinch)
2 Large onions-chopped
1 Head of garlic, about 10 cloves-peeled & chopped
10 Ounces beef consume
32 Ounces beef stock
2  15 Ounce cans of tomato sauce
2 Tablespoons pickling spices-placed in a spice bag or tea strainer
1 Tablespoon of salt-also salt to taste when adding cabbage
1 Tablespoon and 1 Teaspoon cinnamon
1 and 1/2 Teaspoons of cumin
1 and 1/2 Teaspoon of allspice
15 Cups of water
1 Large head of cabbage-sliced
2 Loaves of French bread-day old, stale, sliced
Sprig of mint for each serving
Place all ingredients except cabbage, bread and mint into your pot or pan. Stovetop: bring the ingredients to a boil, then turn to a simmer, cover. Oven: Place covered pan into preheated oven of 400 degrees F, after 30 minutes turn oven to 300 degrees F. Cook ingredients, either method, for 8-10 hours. Uncover in the last hours of cooking to reduce.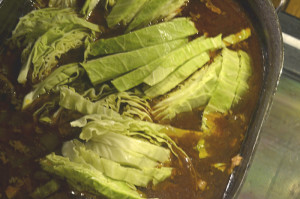 Remove spice bag and bones. Add cabbage and continue cooking another hour to hour and a half. To serve, place serving of meat in a bowl, place slice of bread over meat and mint over the bread, then spoon soup juice over all. Serve hot.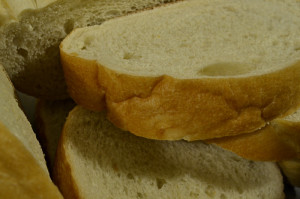 The bread is sliced and left out to dry out. Crusty bread is best. This is a French bread but others such as Italian are suitable.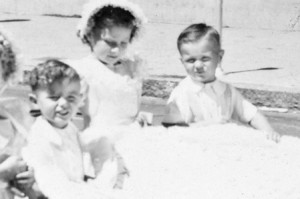 My brother not only helped with the cooking but at the very young age of four he took part in the traditional parade that preceded the Festa. Danny pictured far right holding the cape of the Queen.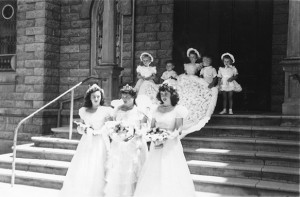 The Queen, our 2nd cousin Mary. Danny, 2nd child from the right.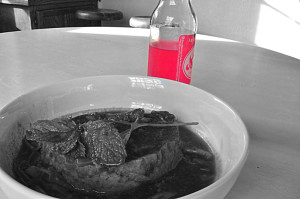 The way I remember it as a kid at the PPAV Hall! Focused on the strawberry soda!
Love our Spicy Portuguese Sopas!