Stromboli the Easy Way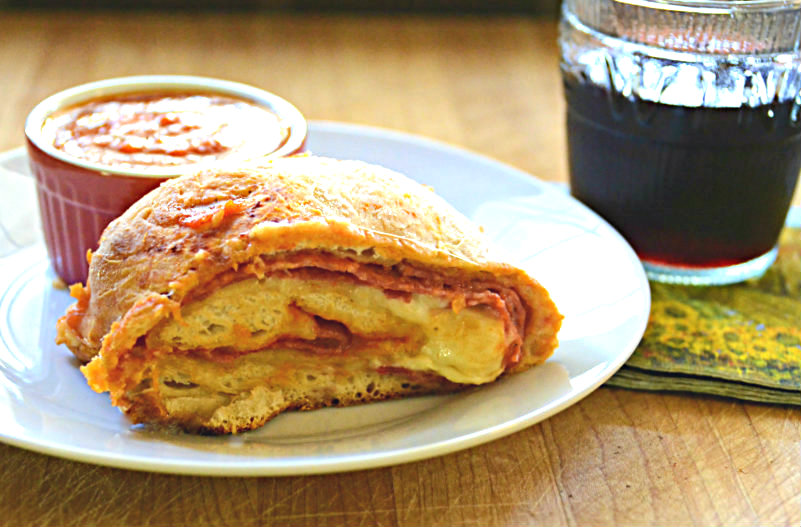 Stromboli is a rolled up pizza! With a bread crust, a little sauce and veggies or meats or both. Prep time is about 20-30 minutes then into the oven for about the same. Nope! No jar sauce, nor pizza dough from the refrigerated section. I'm sure there's some good sauces out there these days but for me as close to scratch as possible ensures a better taste and ingredients I recognize. Yep! I've taken some short cuts but I think you'll approve.
Vegetarians can easily make this their own. Any pizza topping can go into this … So, the choices are in your hands. I've included a simple red sauce but give it a cream sauce or just olive oil. This is amazing.
In the next weeks I'll be posting Portuguese Pizza. That's right! And I'll be making the pizza dough from scratch. If you're into a scratch pizza dough and can't wait for mine Mario Batali's is super amazing … one variation even cooked on a griddle.
Recipe
Preheat oven to 400 degree F, turn to 375 degrees when Stromboli is placed into the oven
Use a heavy bottomed cookie sheet to avoid over browning the bottom
Sauce
1 15 ounce can and one 8 ounce can tomato sauce (This gives extra for dipping)
1/4 Cup extra virgin olive oil
1 Large garlic clove-minced (Or two small)
1/2 to 3/4 Teaspoon dried mixed Italian herbs/seasoning OR 1/4 fresh basil leaves-torn, OR both; (OR lay out basil leaves on the sauce that's layered on the dough)
1-2 Tablespoons of grated Romano or Parmesan
Salt to taste (You may not need any especially if you use cured meats on the Stromboli)
Note: This makes a simple pasta sauce too if you have any leftovers.
Sauté the garlic in the olive oil for a minute or so. No browning, however. Then carefully add all other ingredients. Heat 10-15 minutes and then remove from heat.
Filling
I used about 16 ounces total of various cured meats: Genoa salami, Calabrian salami, pepperoni … Use what you would like on your favorite pizza.
I also used 1 and 1/2 cups of shredded Mozzarella cheese and 1/4 cup of shredded Parmesan cheese.
Bread Crust
Look in the freezer section of your grocery store for frozen bread dough. Look for one pound loaves.
You will need one pound of frozen bread dough.
Defrost in microwave according to their directions OR
-Place your microwave on defrost cycle
-Place the frozen bread on a greased or cooking sprayed microwave safe dish
-Microwave for 1 minute 30 seconds then turn over and microwave for 1 minute-all on defrost cycle
-Repeat the microwave process again
Remove the loaf to a floured surface and roll out to approximately 9″ by 15″ Sprinkle the board with a little semolina flour if the dough is difficult to stretch or won't maintain shape. (Not to worry if you have a tiny hole here and there. You can see mine in the photo.)
Assembly
Add the slightly cooled sauce the thickness you'd like.
Next layer with meats, or veggies or both
Next with basil leaves (optional)
Finally top with a layer of cheeses
Roll longest edge toward longest edge. You can see I have a few leaks. What would I do without my stainless steel pastry scraper! And yes! I'm baking it on parchment paper.
Bake on a thick bottomed cookie sheet. Place into 400 degree preheated oven and immediately turn down to 375 degrees. Bake until lightly browned on the outside … About 30 minutes.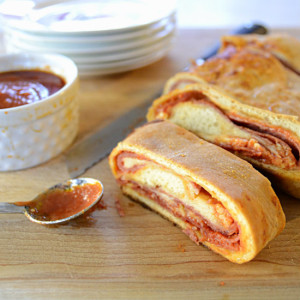 Serve with a side of sauce!