Stuffed Pasta Shells And a Movie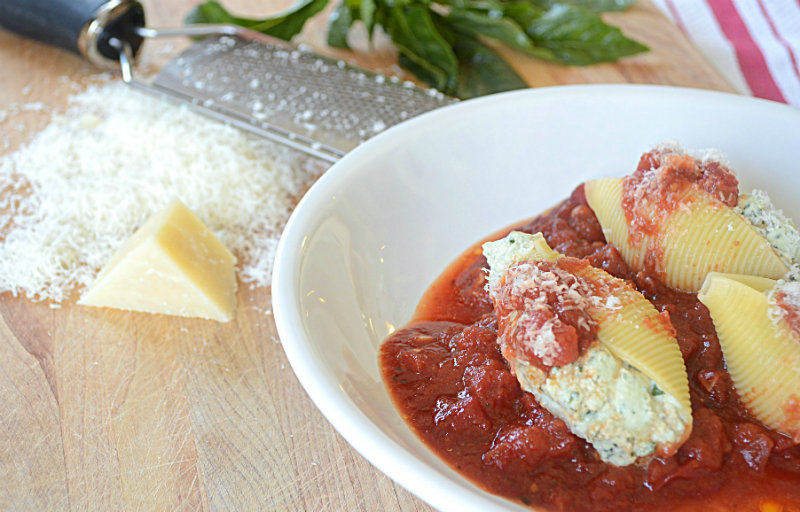 This vegetarian recipe whips up in minutes. So, you'll have plenty of time to see a movie in the same evening …  at a theatre or in the comfort of your own home. Have you ever heard of The Shell Seekers with Maximilian Schell?
Recipe
Makes 4 serving or 12-16 stuffed shells
Bake 25-30 minutes in preheated oven at 350 degrees F
Sauce
Use your favorite marinara
OR
2 Tablespoons olive oil
2 Cloves garlic-minced
28 Ounces of crushed plum tomatoes
Splash of wine (optional)
1/2 Teaspoon Italian seasonings
Salt and Pepper to taste
Heat oil in saucepan over medium heat. Add the minced garlic and stir until garlic is heated through. Careful not to scorch. Add the tomatoes, wine and seasonings. Let the sauce simmer, low, while cooking and preparing the shells.
Shells
6 Ounces of jumbo pasta shells-cooked al dente and cooled
15 Ounces of ricotta cheese
2 Cloves of garlic
2-4 Tablespoons pine nuts
1 and a half Tablespoons olive oil
2 Cups basil leaves-loosely packed
3/4 Cup grated Romano cheese
Salt and Pepper to taste
Cook the pasta per package directions for al dente. After draining cool on a surface prepped with a little olive oil, separating the shells, to keep the pasta from sticking. In a blender add the peeled garlic, pine nuts, olive oil, basil leaves (save a few for garnish), and 1/4 cup Romano. Pulse blend until smooth. Mix this pesto with the ricotta cheese. Add salt and pepper. Taste test for salt and pepper and add more as needed.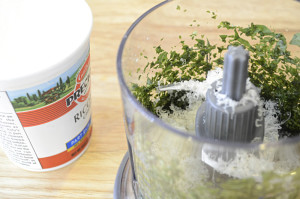 Spoon  a healthy tablespoon of cheese mixture into each shell. Place half the sauce into an oblong oven-proof dish. Set the filled shells over the sauce. Spoon the remaining sauce over each filled shell. Cover and bake until bubbling. Remove from the oven. Remove the cover. Sprinkle with remaining Romano and garnish with remaining basil leaves.