"Tac Quitos" For Kenzie With Guacamole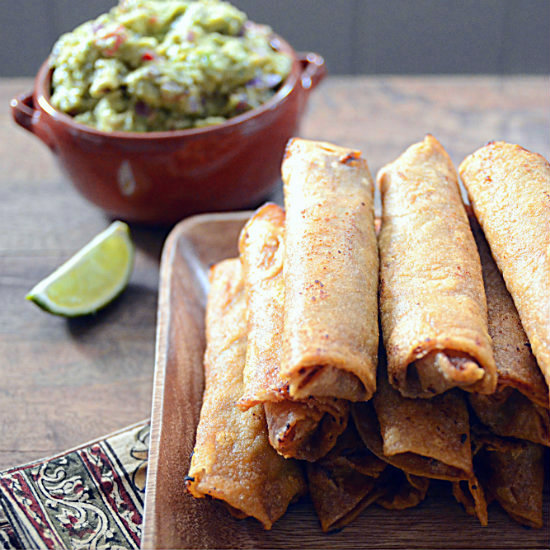 For Winter Solstice our family will celebrate with Mexican Cuisine. We pretty much do this every year. I usually order out for the appetizers and stick to cooking the main dishes. When these are so easy, why? After making my Shredded Beef these Taquitos were a cinch! And I cheated a little with the Guacamole. It's my son's, Ian, and his wife's recipe. Thank you Ann. Ann received her inspiration for their Guacamole from the California Avocado Commission. Check out this site for great avocado recipes of all kinds.
Recipe
Taquitos
Make as few or as many as you like.
Shredded beef
Mexican cheeses
Corn tortillas-smaller is better
Cooking oil
Heat cooking oil, about one inch deep, in a skillet over medium heat.
Cook the tortilla, one at a time, until just heated on both sides maintaining softness. The oil should bubble but not rolling bubbles. Each tortilla cooks in a matter of seconds.
Drain the tortillas on paper towels.
After cooking and softening the tortillas, one at a time begin filling each with meat or cheese. Very little is necessary to fill the tortilla, a tablespoon or two.
Roll up the tortilla tightly around the filling. Leave either end open if you like. Set on a plate with the seam side down to avoid having it unroll.
Heat the oil again. Add more oil as needed. The oil temperature can be a little hotter. Add a few rolls at a time, seam side down. Cook until the outside begins to turn a light brown. Be sure to turn Taquitos in the cooking process. You will be able to feel with the tongs that the outside is turning crispy. This may take several minutes of cooking.
Remove Taquitos from oil and drain well. Serve warm or room temperature with a side of Ann's Guacamole.
Guacamole
2-3 Large avocados-peeled and roughy chopped
2 Large plum tomatoes-membrane and seeds removed and finely diced
1 Small red onion-finely diced-I used 3/4 onion, recommend to taste
1 large jalapeño-seeds and membrane removed, finely diced
2 cloves garlic-peeled
1 small lime
Salt and Pepper to taste
In a food processor place 1 avocado, the garlic, 1/3 the chopped jalapeño, about 2 tablespoons of chopped onion and juice from 1/2 the lime. Whirl until almost smooth.
Place the processed mixture into a bowl with the rest of the ingredients. Use a potato masher and mash and mix until texture you like. Takes about a minute or less.
Taste for salt and pepper need. Add more lime juice if desired.
It's ready.
Hope you enjoy these two recipes, Taquitos with Guacamole