Tinolang Manok
Delicious Chicken Soup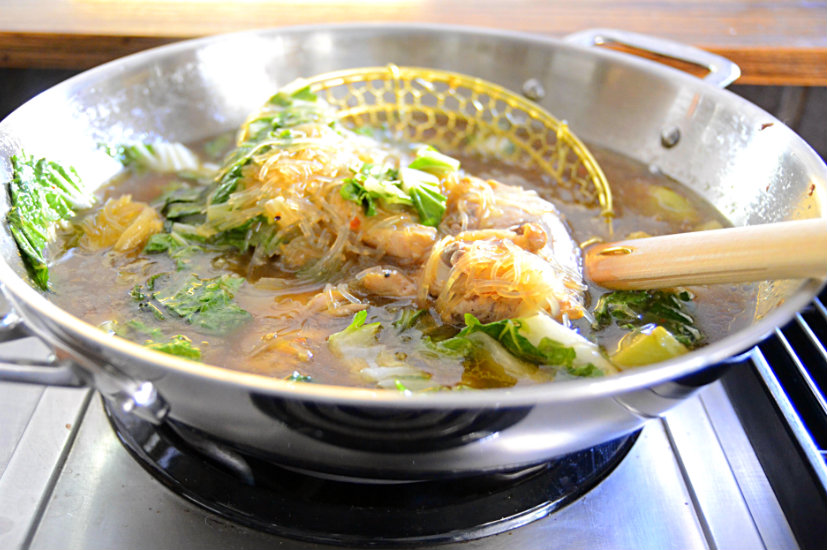 Doesn't this look fabulously delish! I wish I had some this very minute. A shy friend of mine made this for my mother. (See her food photo, next page. She advised me that noodles are really not part of this dish.) I say shy because she'd rather remain anonymous. And since she has yet another recipe for me, Filipino Adobo Style Chicken, I must respect her wishes.
Both recipes, the second coming up later today, are amazing and so healthy too.
Recipe
1 Tablespoon cooking oil
2 Pounds trimmed chicken wings
1/2 Yellow onion-cut in half again and then sliced thin diagonally
2 Cloves garlic-sliced thin
1 1/2 Inch ginger-peeled and sliced
1/2 Head bok choy-roughly chopped
3 Small Jalapeños-seeds and pulp removed, then slice
2-3 Chayote-peeled and cut into bite size pieces
Chicken bouillon cube
Water
Salt and ground pepper to taste
Optional: Bean threads can be added. Deliciously noodle-like and cook up in minutes. This was my idea. Oops.
Heat the oil in a wok or wok-like skillet until it's hot over medium heat.
Add the onion, garlic and ginger, stirring quickly. Add the chicken wings a few at a time and cook about 5 minutes. Add the Jalapeños.
Add 2-3 Cups of water and the bouillon, the chayote and simmer for 10 minutes. In the last 2 minutes add the bok choy.
Salt and pepper to taste.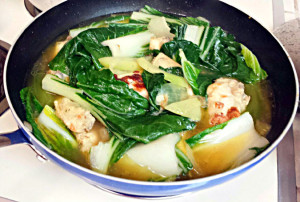 Thank you so much for this recipe special friend.