Tiramisu Make Over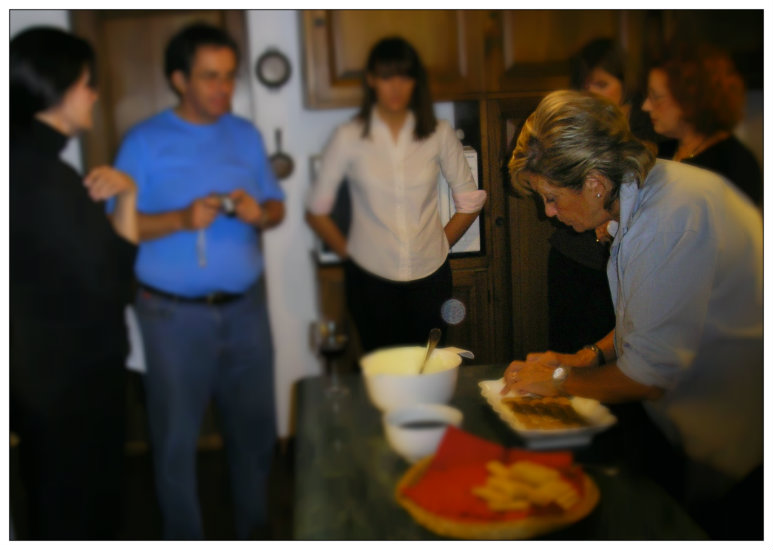 Here I am in Florence with wanna-be Italian home cooks, like myself, watching our instructor make Tiramisu. I still have the recipe. But there are some glitches … Finding really tasty ladyfingers is difficult in my little town and finding mascarpone cheese is next to impossible. Also, the recipe calls for raw eggs. At one time I made pies, ice cream and desserts with raw eggs and never had any ill effects. But since this is now discouraged … well, it's hard to turn back.
So … I developed a mock up Tiramisu. Please know this is not a substitute but rather a delicious dessert reminiscent of Tiramisu.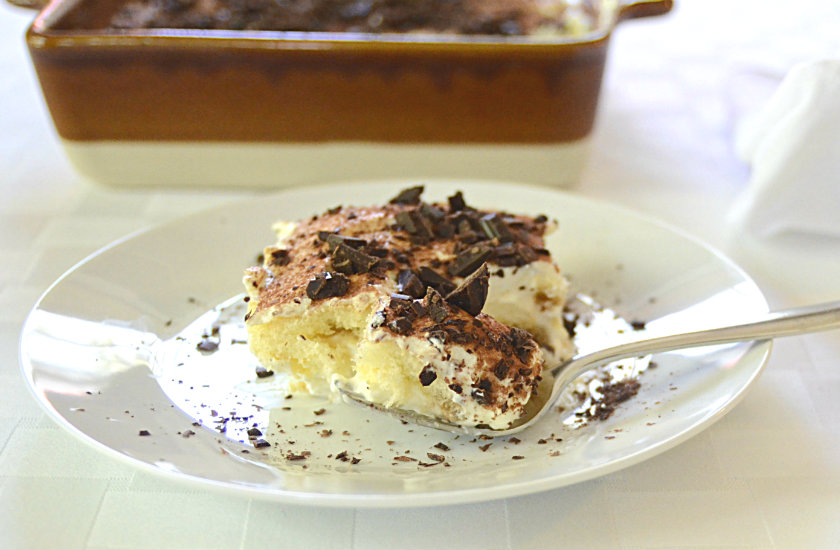 This is really an easy dessert to put together whether you're making authentic or my make over. If you're looking to give this your signature my suggestion is to make your own lady fingers or a substitute for them; such as, pound cake … And adding a little fruit flavor might be interesting. I thought about using Frangelico instead of rum … ultimately the alcohol can be left out if desired.
Have you ever experienced a Tiramisu with an almost bitter bite? I have! My very first! And for a long time I didn't even go near this dessert. You won't find bitter in this version whether you use rum or not. It's just perfect! (Note: Be sure your coffee doesn't taste bitter, and use the coffee sparingly.)
Recipe
Serves 6-8
3 Egg Yolks
1/3 Cup sugar
8 Ounces of cream cheese
3/4 Cup heavy whipping cream
12 Lady finger cookies (24 halves)
1 Cup expresso or strong coffee-room temperature (not all will be used)
1/4 Cup quality rum (optional)
Scant 1/2 tablespoon unsweetened cocoa
1.5 Ounces of quality dark semi-sweet chocolate
Heat the water of a double boiler to just simmer with whisked eggs and sugar in the top section. Whisk constantly the contents during the heating process for about 7 minutes. Remove from heat and let cool slightly.
Add the cream cheese and break up with a spoon. Whisk contents together until creamy and mixed well. Add rum if using and mix well. Place mixture in the refrigerator while following the next step.
Beat the heavy whipping cream until stiff. It will equal approximately 1 1/2 cups after beating. With the cooked mixture now cool to at least room temperature fold in the whipped cream. Place this back into the refrigerator.
Now for the coffee and cookie dipping. Place the coffee in a bowl large enough to hold the whole cookie easily. Separate the cookie halves into two equal piles before you begin. It is best to do the dipping by hand not with a spoon. Dip and layer.
In the bottom of a 8 inch by 8 inch dish place one-half of the quickly dipped halves of cookie in a single layer. Dip-layer, dip-layer. Arrange 12 halves over the bottom. There will be two layers, 12 halves in each. My cookies were very soft and absorbent. I dipped them so quickly (less than a second each) … Otherwise they would have been soggy. Not all lady fingers are equal. Some brands may require longer dipping time.
After you have layered 12 halves pour half of the creamy mixture over the cookies. Then layer again with the cookies and follow with the creamy mixture.
Sprinkle the top with the unsweetened cocoa. I use a fine mesh strainer and shift over the top.
Lastly, chop the dark chocolate for the final touch. Sprinkle over the top. You can make lovely curls with a vegetable peeler but the chocolate bar will need to be thick (requiring a larger chocolate bar) to accomplish this.
Refrigerate for two hours or more. Then serve. Keeps for one to two days. After that the cookies begin to break down too much.
Serve with coffee and … Get ready for the compliments!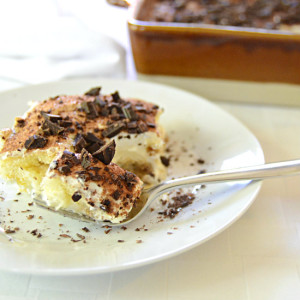 Enjoy!