Tortilla Soup With Beef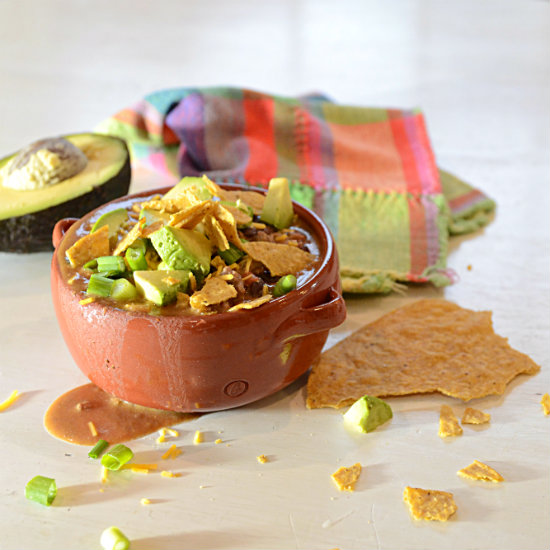 What's so different about this Tortilla Soup! It's made with ground beef or turkey, can be cooked all day in a crockpot or made stovetop in no time. You can crisp your own tortilla strips for the garnish or use precooked tortillas, tostadas, crumbled over the top. I love these tortillas freshly cooked by Vallarta's, a local supermarket that caters to the Latino population. We are lucky to have this impeccably clean packed with ethnic food choices supermarket chain throughout Southern California. Fresh sausages hang all along the meat section … a little chorizo would be a good addition to this soup but not this time.
Recipe
Serves 6
3/4-1 Pound of ground beef or turkey
1 Tablespoon olive oil
1 Yellow onion-diced
2 Jalapeño peppers-membrane and seeds removed-chopped
1/2-1 Red bell pepper-seeds removed and diced
1 Tablespoon Taco Seasonings (from a premixed packet)
15 Ounce can petite cut tomatoes
8 Ounce can of Mexican tomato sauce (I used El Pato salsada chile fresco or use plain tomato sauce if you can't find either of these products.)
2 15 Ounce cans of black beans or substitute 1 cup of frozen corn for one of these cans
15 Ounce can of broth, use chicken, beef or vegetable broth
4 Ounce can of fire roasted green chilies-chopped
2-3 Ounces of Velveeta cheese to thicken soup (optional)
Salt to taste (you may not need any additional)
1 Avocado-diced
1 cup shredded Mexican cheeses
4 Green onions-sliced
Tostadas shells
In a large skillet heat the oil over medium heat and add the onion and jalapeño peppers and sauté until the onions are fork tender. Set aside.
To the same skillet after onions and peppers removed add the ground meat and cook through browning lightly. Drain off excess fat if any. Turn heat to low. Add the taco seasonings to the meat and allow time to be absorbed.
At this point ingredients other than the last three can be layered into a crockpot for all day cooking.
For the stovetop add all ingredients except for the last four. If you are using the two cans of beans rinse one can of beans and only add the beans. The other can of beans use the entire can even the liquid. (If substituting corn for one can of beans use the entire can of beans.)
Now simmer for 30 minutes on low.
Add the Velveeta and melt into soup-optional.
Serve with avocado, shredded cheese, green onion and crumbled tostada shells over the top.
Just in time for the rain. According to the weather forecast should begin around 1045am. That's pretty precise!