A Big Taste Casserole With A Little Bite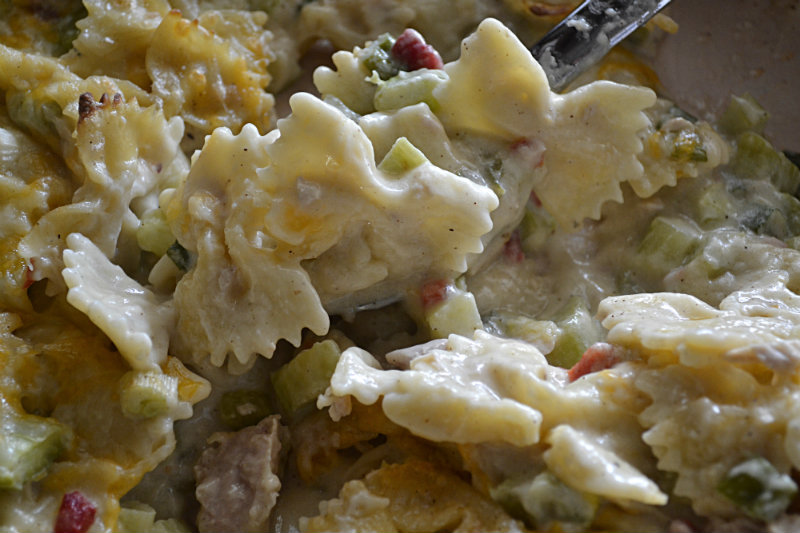 A quickie meal, Tuna Chicken or Turkey Casserole, with a rich taste and a hint of heat. In the 50's and early 60's we were not a casserole family at all. In fact, I don't remember having a meal with a casserole as a main dish until I discovered them. My mother had a true prejudice for these dishes … Until she tasted my tuna casserole! I hope you will enjoy it too!
Gather the ingredients:
7 Ounce can of tuna or 1 and 1/2 cups of cubed cooked chicken or turkey
6 Ounces of pasta, I like to change up the size and shape each time I make this, your choice of pasta cooked according to directions Hint: Add mayonnaise immediately to cooked drained pasta to prevent it from sticking together
1/2 Cup mayonnaise, preferably olive oil base
1 Cup shredded cheddar cheese, sharp to mild
1 Cup sliced celery, not fond of celery then use combination red and green bell pepper, chopped
1/4 Cup roasted, seeded, chopped green chilies, more for more heat
1/4 Cup chopped pimento, omit if using bell peppers
3 scallions sliced small, tops included
One 14 ounce can chicken or vegetable broth
2 Tablespoons butter
2 Tablespoons flour
1 Teaspoon salt
1/4 to 1/2 Teaspoon ground white or black pepper
1/2 Cup half and half or cream and in a pinch milk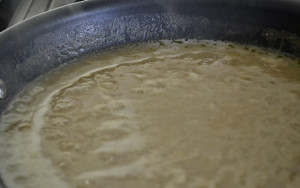 Cook a bechamel sauce. I think of country gravy each time I put this together. Oops! Melt butter over medium heat and stir in flour with salt and pepper. Cook until bubbles. Then add the broth and stir until thickened. Add a dash of paprika if you'd like.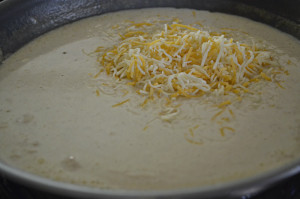 Turn heat to medium low and stir in cream. Allow to continue cooking for 2 minutes before adding the cheese to melt.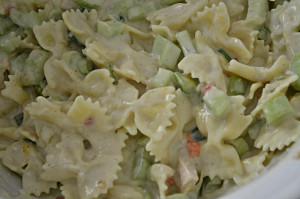 Pour sauce over the remaining ingredients and mix well. Pour ingredients into a buttered baking dish. And bake for 20 minutes in a preheated oven of 400 degrees F. OR heat in skillet simmering on stove until heated through.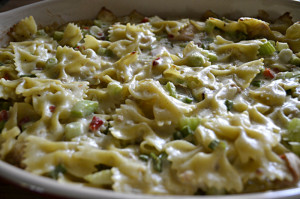 Sprinkle a little additional cheese on top if you like. And put dish under broiler heat just until cheese turns slightly golden. Keep your eyes peeled. This could take as little as 30-60 seconds.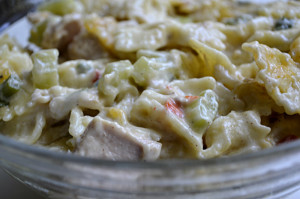 Ready to eat!