My Breakfast of Champions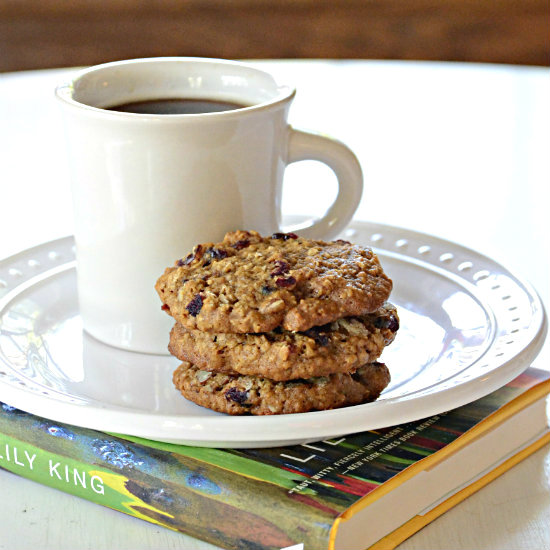 Perfect for me and healthy too. Amazingly chewy and so moist you can eat them without a plate. I'm pretty tidy and like the no crumb experience while reading. Perfect for reading and eating! Enjoy this Vegan recipe I've shared in the past.
Or if you'd rather go butter and eggs for a delicious experience with a taller cookie try this version here.
Recipe
Bake at 350 degrees F for 10-15 minutes, over baking will remove the chewy
Makes 24 two inch cookies
VEGAN
1 and 1/4 Cups vegan sugar
1/2 Cup light olive oil
Egg substitute for two eggs
6 Tablespoons molasses (This will increase molasses flavor and change the texture slightly. See below.)
1 Teaspoon vanilla
1 and 1/2 Cup all purpose flour
1 Teaspoon cinnamon
1 Teaspoon baking soda
1 Teaspoon salt
2 Cups oatmeal, quick or 10 minute or combination
1 Cup dried cranberries or raisins or dried cherries or a combination
1 Cup chopped nuts, optional, walnuts preferred here
Measure the flour, cinnamon, baking soda and whisk to mix. Set aside.
Cream the oil with the sugar in a large bowl.
Add the egg substitute and vanilla to the sugar mixture and mix.
Add the flour mixture and then the oatmeal to the sugar and egg mixture. Mix until just incorporated evenly.
Fold in the nuts and cranberries.
Bake.
AND ENJOY!