Viennese Cookies With Three Looks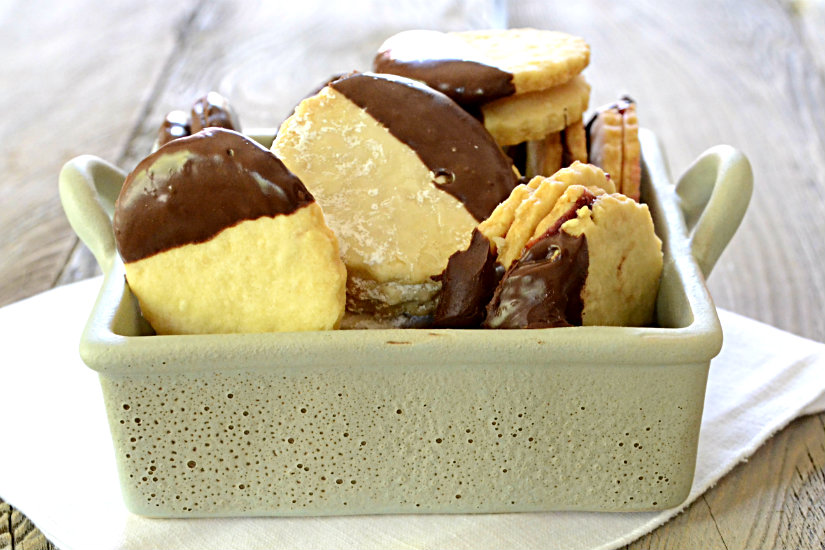 These can be eaten plain or as I have here … Dipped in chocolate, dusted with powdered sugar and dipped in chocolate, or sandwiched with your favorite jam and dipped in chocolate. Just anyway you try them they're buttery delicious.
And as if these choices are not enough … I have two other posted recipes very similar to this one. I just like these ingredients in a buttery cookie dessert.
Recipe
Bake in preheated oven at 350 degrees F for 10-12 minutes or until slightly golden around the edges
Makes about 3 dozen 2 inch single cookies
Cookies:
1/2 Cup plus 3 tablespoons of butter-not right out of the refrig but still cool
1/2 Cup powdered sugar
3/4 Cup ground almonds-I used blanched
1 Cup flour
1/2 Teaspoon Vanilla
1/4 Teaspoon salt if using unsalted butter
Coating:
1 Cup semi-sweet chocolate chips
1 Tablespoon shortening
Other Options:
Jam of your choice for sandwich style
Powdered sugar for coating
Place all the cookie ingredients into a large bowl. Cut the butter into the dry ingredients. Use your hand if the process is easier for you. Form dough into a smooth ball.
Roll out the cookie dough on a well floured surface to just under 1/4 inch thickness.
Cut with floured round cutter. And place onto a parchment covered cookie sheet and bake.
Cool.
For the melted chocolate coating:
Melt the chocolate in your microwave with the shortening. Heat at 20-30 second intervals to avoid overheating and burning the chocolate. Stir after each time until smooth and creamy. Ready for the dipping.
Dip the cookie in the chocolate carefully to avoid cracking the cookie and place on a rack to cool.
If using jam, I used raspberry, spread between two cookies then dip in chocolate.
How great is this!!