Whole Wheat & Honey Banana Bread
And Oatmeal Too!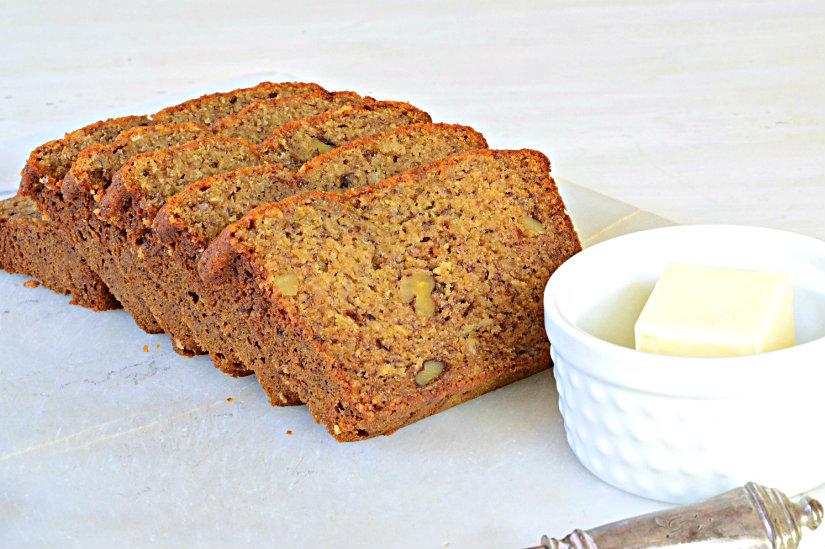 Packed? Yes! Heavy? No! A whole wheat take on Banana Bread. (See my earlier recipe, Hint of Orange Banana Nut Bread, a different approach but equally delicious.) Many old healthy recipes are beginning to fall away with the new thoughts about gluten. I'm still hanging onto this one until a little more data is in. This bread is a great breakfast bread. I just don't get hungry right after eating. Or experience that crash! No extensive ingredient list and most ingredients are already in your pantry. Yes, this will remain in my recipe box. Hope you enjoy it too!
Recipe
Preheat oven to 350 degrees
Prepare your loaf pan with shortening and dusting with flour. This bread pops right out for me each time with this treatment.
Bake one hour or until a wooden screwer comes out clean when bread pierced in the center.
1/2 Cup salted butter-room temperature
2 Eggs-room temperature
3/4 Cup honey
3 Ripe bananas-mashed with a fork
1 1/2 Cup Whole Wheat Flour
1/2 Cup old fashioned oats
1/4 Cup wheat germ
1 Teaspoon baking soda
Scant 1/2 teaspoon salt
2/3 Cup broken walnuts
In a large mixing bowl cream butter, add eggs and further cream, add honey and cream all. Add bananas and beat thoroughly. Set aside.
In a medium bowl measure the whole wheat flour, oats, wheat germ, baking soda and salt. Whisk to mix. Add to the creamed mixture and just mix until incorporated.
Fold in the walnuts.
Pour ingredients into prepared standard size loaf pan. And Bake. Enjoy!