Berries Smoothie
Day 3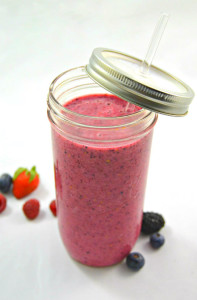 Your choice of berry for this treat! I used my all time favorites, blackberry, blueberry, strawberry and raspberry.
It's no surprise my daughter has chosen a smoothie as a go-to snack. Her food choices very early on were healthy, simple, mostly raw, and always always fresh.
We always remember, too, the importance of an attractive dining experience to enhance every bite … or slurp. What do you think of this glass tumbler! It's BPA free and dishwasher safe. Check out this product themasonbarcompany.com … sold on Etsy. We love new and unique products! Yes, the straw is glass!