A Sandwich For Everyone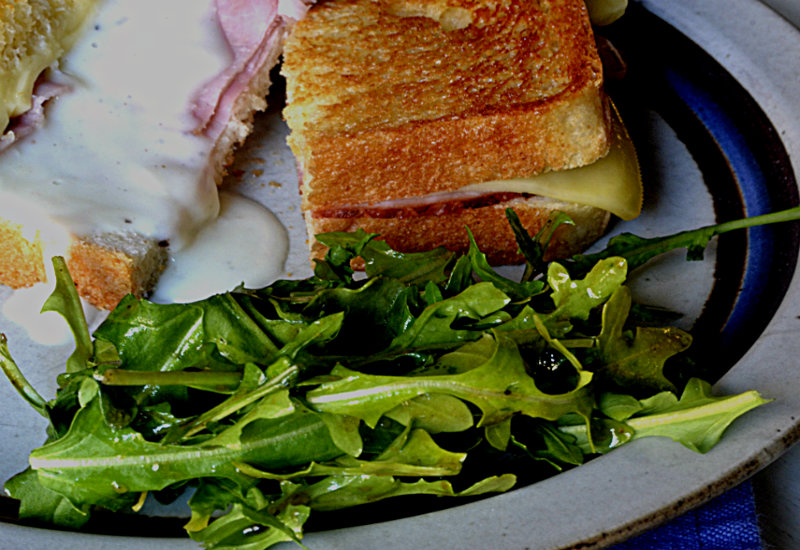 Late at night when you can't sleep what do you do? I watch an old movie. I'm not just interested in the story but the food! When Alec Baldwin takes a delicious bite of the Croque-Monsieur I can taste it. This prop is most likely cold and verging on stale … After all Alec is an actor! The next thing I know I'm creating my own Croque-Monsieur!
What a great snack or light meal! Use a vegan cheese for the Provencal or ham it up with the Monsieur. What is the difference between Croque-Monsieur, Croque-Madame and Croque-Provencal? Ham, egg and tomato. All three are included here.
A great option for Sunday football or movie snacking. Accompany with beer or wine. And arugula with a vinaigrette for a light dinner.
Recipe
Country French Bread, thick sliced
Cheeses: Jarlsberg or gouda, blue cheese, medium sliced
Cooked Ham: thin or medium sliced
Béchamel sauce: 2 Tablespoons flour, 2 Tablespoons butter, 1 Cup milk, Salt and Pepper
Eggs for Madame
Tomatoes for Provencal
Extra butter for spreading
Gather these items. Croque Monsieur: Jarlsberg cheese medium sliced, thin sliced cooked ham, thick sliced Country French Bread, butter for toasting and the béchamel for spreading inside the sandwich. Croque Madame: Substitute a fried egg for the ham. This is the only change. Croque Provencal: Substitue a tomato slice or two for the ham. And change the cheese to a rich blue cheese.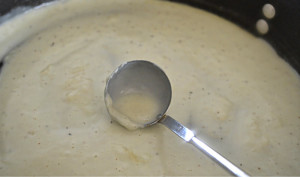 Make the béchamel first and set aside. Melt two tablespoons of butter in a saucepan or skillet. Add two tablespoons of all purpose flour to the melted butter. Mix well. Then add one cup of milk stirring until all is incorporated into a smooth sauce. Salt and pepper to taste. Use white pepper if you like. This sauce often continues to thicken with heating. Too thick during the cooking process? Add a little more milk. This sauce will be spooned or spread inside the sandwich. It can be drizzled over the top of the sandwich if desired.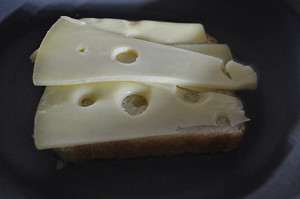 Heat skillet or griddle to medium low. Butter lightly the outside of the bread slices. Place one slice of the bread, butter down, into the skillet. Layer the cheese on the bread first.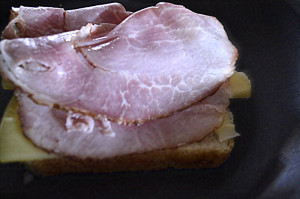 Add ham next. For the Madame fry the egg separately.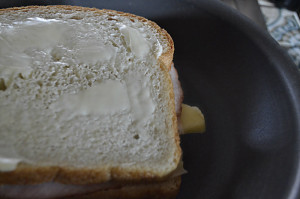 With this topper of bread spread the inside with béchamel and the outside with butter.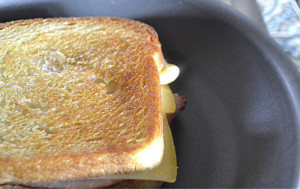 When the underside is golden flip the sandwich carefully.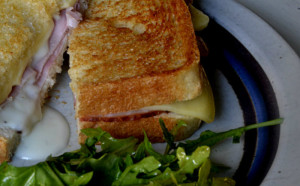 Adding more béchamel after the sandwich has been cooked. This is a matter of taste.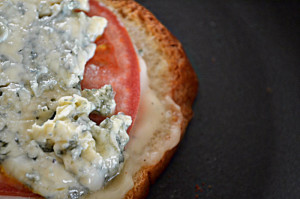 Here is the Provencal, tomato slice and blue cheese. Béchamel had been spread on the inside of the bread.
Want a real crunch? Toast both sides of each slice of bread. For the Madame serve it open face with the fried egg placed on one half of the sandwich.
Serve each sandwich with arugula and a sprinkle of a balsamic vinaigrette.
Perfect!