Almond Cookies Or Biscuits
Great with Coffee, Tea, Milk, Cheese and Wine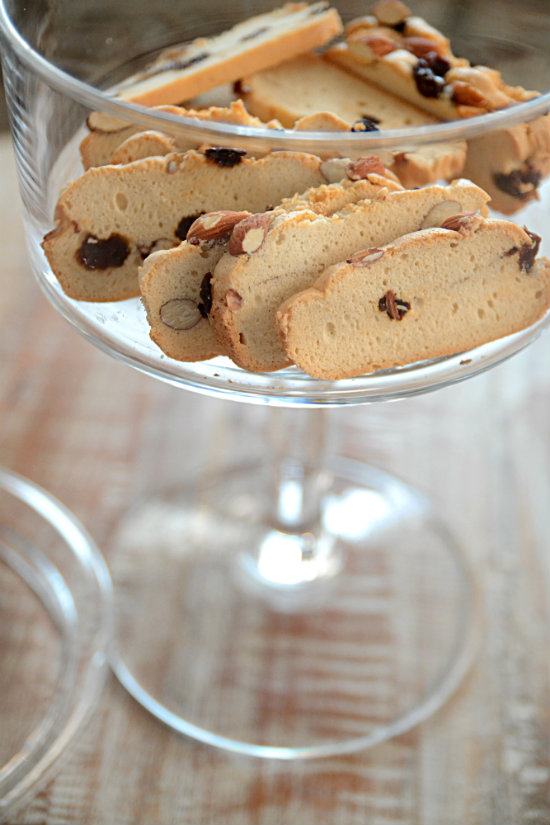 When biscotti became the rage in our part of the country in the early 90's I had already discovered a close relative mandelbrot. I wasn't sure what I was eating but I knew I loved it! To me it looked like a version of the biscotti, and come to find out the baking process is very similar. But it stops there. Mandelbrot definitely has a different texture … almost like a very heavy angel food loaf, sliced thin, 1/4 inch or less, and toasted to a crunch.
Have you tried Almondina Cookies? Just amazing! This was my first exposure to mandelbrot. This company has several varieties now but the original is still my favorite. The sad part for me is availability. I can't always find Almondina in my little city … Occasionally at Cost Plus World Market.
So, today I tried my hand at making them. But while distracted by cat or dog I managed to ruin my batter. Wait! I thought I ruined the batter but finished the recipe so as not to waste the ingredients. My mistake? Instead of folding the flour into the egg whites I beat it all together. This might have added to the denseness. It worked perfectly. My mistake might have been just what I needed to get the perfect outcome. Because they are just as I remember.
Recipe
Preheat oven to 350 degrees F initially — later at 200 degrees — lastly toast at 400 degrees
8 inch by 4 inch loaf pan
Cut a piece of parchment paper to fit the bottom of loaf pan (You can cut to exactly fit bottom or you can have extra running up the long sides of the pan to help you lift out after baking. I cut to fit bottom only and after baking ran a knife around the edges. It popped right out.)
Makes 32-36 thin slices
5 Large egg whites-room temperature
1/2 Cup extra fine sugar or 1/2 cup sugar whirled in processor
1/2 Teaspoon vanilla
Pinch of salt
1 Cup all purpose flour
1/4 Cup raisins
1/3-1/2 Cup raw unsalted almonds
Pinch ground cardamom
1/8 Teaspoon cinnamon
Measure flour and salt and whisk together.
Beat the egg whites until soft peak then gradually add vanilla and sugar as you continue beating to a stiff glossy peak and all sugar is dissolved.
Add the flour mixture, either fold into egg whites or mix at a low speed. After mixed layer a small amount of batter into the bottom of the baking dish.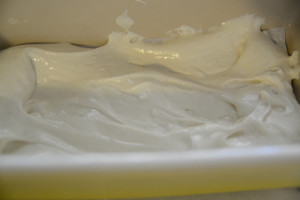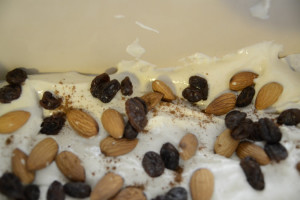 Next layer half the almonds and half the raisins. Add 1/2 the spices by pinching a tiny bit and sprinkling over the top. This cookie recipe only has a hint of spice. Add more cinnamon if you are into it!
Layer again, batter and then raisins and nuts. If there is enough batter to layer for the 3rd time, finish with the batter. I didn't have enough to layer batter for the third time.
Bake at 350 degrees for 35-40 minutes until cake tester comes out clean.
Let rest and cool for 30 minutes. I wasn't patient and removed mine from the pan after 15 minutes pretty easily.
I was concerned at this point the loaf would be hard to slice. I let it cool for 45 minutes total then with a sharp serrated bread knife I cut the slices, slightly sawing as I went. 1/4 inch slices or less. The almonds surprisingly sliced easily.
On parchment paper or nonstick baking sheet bake the slices at 200 degrees for 60 minutes, turning them over half way through. Check during the baking process to make sure they are not turning brown.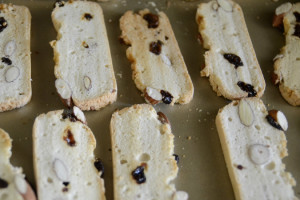 If the slices are not slightly brown after baking at 200 degrees for one hour. Remove from oven and preheat to 400 degrees. Bake two-three minutes each side watching carefully.
These will keep several weeks.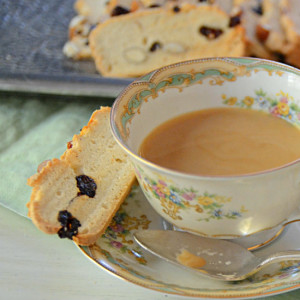 For the best part!